The US Navy (USN) recently completed a critical design review of Northrop Grumman's Advanced Anti-Radiation Guided Missile-Extended Range (AARGM-ER), a new air-launched weapon intended to destroy enemy radar and communications systems.
The service completed design verification tests of the AARGM-ER rocket motor and warhead, in addition to critical design review of subsystems and system-level performance, Northrop said on 18 June.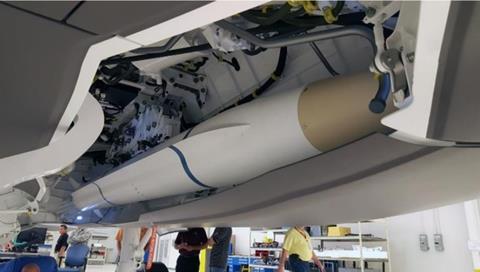 "Rocket motor design verification tests represented a significant knowledge point and milestone for engineering and manufacturing development," says Gordon Turner, vice-president of advanced weapons with Northrop. "These tests were important to informing the critical design review and verifying performance of the missile. With our government partners, we are aggressively focused on achieving speed-to-fleet while holding to programme cost objectives."
To test propulsion performance, the rocket motor was fired in extreme cold and hot temperatures. The warhead was also tested to demonstrate "lethality performance", says Northrop.
The AARGM-ER is an extended-range version of the USN's current AARGM weapon, which is in full-rate production. The –ER variant borrows many components of the classic AARGM, but adds a new rocket motor for increased range and a new warhead for increased destruction. For lift, it has a short strake along its length, instead of its predecessor's mid-body wings.
As a standoff weapon, which can be launched by aircraft beyond the reach of enemy surface-to-air missiles, the missile's exact range is classified.
Anti-radiation missiles are designed to destroy enemy radar, jammers and radio transmitters – to blind an adversary, preventing them from tracking and downing US aircraft. The missiles would be fired early in a conflict, clearing the way for waves of fighters and bombers.
AARGM-ER is to be integrated on the USN's Boeing F/A-18E/F Super Hornet and EA-18G Growler fleets. The US military plans to eventually integrate it onto all three variants of the Lockheed Martin F-35 stealth fighter.
On 1 June, the USN completed the first captive-carry flight test of AARGM-ER on a F/A-18E.
The service plans to award a low-rate initial production contract to Northrop in the third quarter of fiscal year 2021 to begin manufacturing an undisclosed number of weapons.