The US Navy's (USN's) Next-Gen Jammer Mid-Band pod made its first flight on the Boeing EA-18G Growler on 7 August.
The Safety of Flight checkout was conducted from NAS Patuxent River in Maryland and intended to ensure that the pod could be safely flown on the EA-18G for follow-on test flights, the service said on 10 August.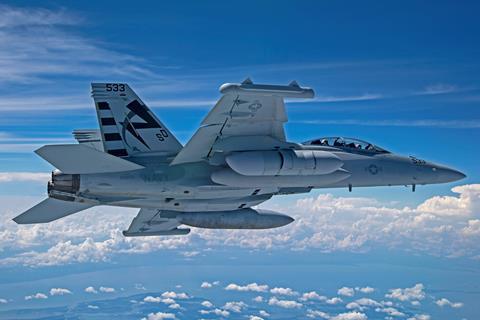 "There was a lot of discussion on how the [Next-Gen Jammer Mid-Band] pod would affect how the Growler handles and it was exciting to have the jet feel like any other flight," says Lieutenant Jonathan Williams, test pilot for Air Test and Evaluation Squadron 23.
The Next-Gen Jammer Mid-Band pod is being developed by Raytheon. It is to replace the ALQ-99 Tactical Jamming System currently used on the EA-18G. The new jammer is an active electronically scanned array, instead of a mechanically scanned array, which allows for faster and more precise broadcast of radio waves.
The USN plans to field three jammers on its EA-18G: low-, mid- and high-band. In May, the service started testing competing products from L3Harris and Northrop Grumman for its low-band jammer programme. The high-band system is planned to come at an undisclosed later date.
The three jammers are to disrupt or jam a wide variety of enemy radar-guided surface-to-air missiles, making it more difficult for an adversary to see and target incoming aircraft and missiles. The USN's Growlers are tasked with providing jamming cover for US Air Force and US Army aircraft as well.