The US Special Operations Command plans on buying 75 fixed-wing aircraft for its just-announced Armed Overwatch programme.
The aircraft are intended for close air support of special operations troops, according to a notice announcing an upcoming industry day posted online 3 February.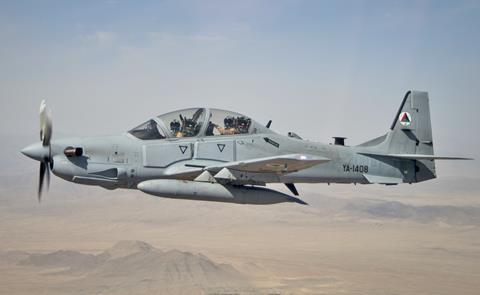 "Armed Overwatch will provide Special Operations Forces deployable and sustainable manned aircraft systems fulfilling close air support, precision strike, and intelligence, surveillance and reconnaissance in austere and permissive environments," says the notice.
The programme is similar to a faltering light attack experiment within the US Air Force (USAF), which aims to show light attack aircraft, specifically the Textron Aviation AT-6 and Sierra Nevada /Embraer A-29, could cheaply boost the air-to-ground attack capabilities of US allies and foreign partners. To further that experiment, the service announced in October 2019 that it planned to give Textron and Sierra Nevada orders for purchase of two to three light attack aircraft each.
The Armed Overwatch programme is closer to the USAF light attack experiment's original goal of providing the US military with a cheaper alternative for air-to-ground attack missions, compared with expensive-to-fly fourth and fifth generation fighters such as the Boeing F-15E or Lockheed Martin F-35.
Air superiority is often the USA's trump card, especially when patrolling or fighting on the ground with small numbers of troops. The issue came to the top of the Pentagon's priorities after four US soldiers were killed in an ambush in Niger by the Islamic State in the Greater Sahara in 2017, partly due to lack of air cover.
Turboprop light attack aircraft, such as the AT-7 and A-29, can carry machine guns, rockets, missiles and precision bombs.
US Special Operations Command plans to host an industry day on 4 March – 5 March to explain the Armed Overwatch programme to prospective bidders.
Initially, Armed Overwatch would be pursued as a prototype initiative to demonstrate the concept, says US Special Operations Command.
If the demonstration phase proves promising enough, US Special Operations Command plans to award a follow-on contract with a base 5-year ordering period, plus a 2-year option, for 75 aircraft and MRO support.