The US State Department has approved the sale of eight Boeing KC-46A Pegasus in-flight refuelling tankers to Israel for an estimated $2.4 billion.
The US Congress has been notified of the possible sale, says the Defense Security Cooperation Agency on 3 March.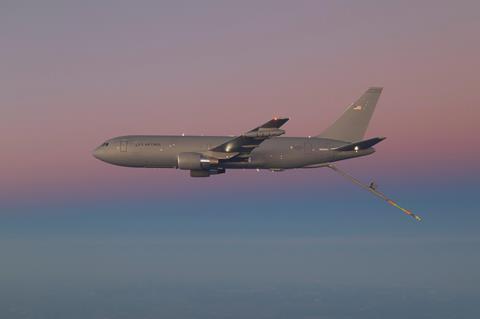 The potential sale to Tel Aviv comes after the Boeing KC-46A has suffered years of delays and weak Foreign Military Sales. Beside the US Air Force (USAF), which is on contract to buy 67 tankers, the only other country to buy the aircraft is Japan, which has two examples on contract.
The KC-46A programme has been hobbled by engineering and manufacturing problems, in particular with its refuelling boom camera, called the Remote Vision System. The camera can distort images that boom operators see, leading to accidental collisions with recipient aircraft.
Boeing is working on a fix for the issue, though the retrofit won't be ready and installed on service aircraft until 2022 or 2023, delaying the tanker's operational use for several more years, the USAF has said.
Problems and delays with the KC-46A have put the programme several billion dollars in the hole. Foreign Military Sales are seen as critical to Boeing's ability to make a profit on the programme.
For its part, Israel operates seven Boeing 707 and three Lockheed Martin KC-130H in-flight refuelling tankers, according to Cirium's Fleet Analyser.
"The proposed sale further supports the foreign policy and national security of the United States by allowing Israel to provide a redundant capability to US assets within the region, potentially freeing US assets for use elsewhere during times of war," says the Defense Security Cooperation Agency. "Aerial refueling and strategic airlift are consistently cited as significant shortfalls for our allies. In addition, the sale improves Israel's national security posture as a key US ally."
In addition to the aircraft, the sales package would comprise of 17 Pratt & Whitney turbofan engines, including one spare; 18 Raytheon Miniature Airborne 2000-GPS Selective Availability Anti-Spoof Module Receivers; Collins AN/ARC-210 U/VHF programmable digital radios; and Raytheon APX-119 identification friend or foe transponders, among other spare parts and training services.
The possible sale notification to the US Congress does not mean the deal with Israel is finalised, as the quantity, configuration and price could change with further negotiations.