The US Department of State has approved a $23.4 billion sale of aircraft and weapons to the United Arab Emirates (UAE), including 50 Lockheed Martin F-35A Lightning II stealth fighters.
The proposed sale of stealth aircraft to the UAE is sure to be controversial, as the tribal monarchy would be the first non-democracy to receive the advanced fighter. Democrats in the US Congress have previously opposed such a sale, and President-elect Joe Biden might be unlikely to approve it.
The actual dollar value of the deal might be less than disclosed depending on the UAE's requirements, budget and further negotiations. It is not certain the sale will ultimately go through.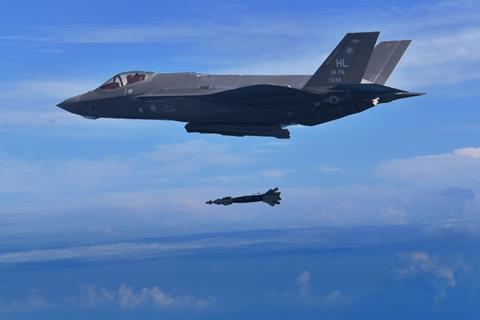 Typically, the Department of State approves arms sales and then notifies the US Congress of its decision via the US Defense Security Cooperation Agency (DSCA).
But in this case US secretary of state Mike Pompeo issued a press release declaring the sale would be approved. A formal and separate notice came about an hour later from the DSCA.
"Today, I directed the department to formally notify Congress of our intent to authorise the UAE's proposed purchase of several advanced capabilities that are worth $23.37 billion," he says.
The proposed deal includes 50 F-35s valued at $10.4 billion, up to 18 General Atomics Aeronautical Systems MQ-9B unmanned air vehicles (UAVs) valued at $2.97 billion and air-to-air and air-to-surface munitions valued at $10 billion, Pompeo adds. "This is in recognition of our deepening relationship and the UAE's need for advanced defence capabilities to deter and defend itself against heightened threats from Iran."
The DSCA says the 50 F-35As would come with 54 Pratt & Whitney F135 engines, including four spares.
Also included with the F-35s would be air-system training devices and systems related to electronic warfare, command and control, identification, navigation, logistics and data-integration, says the DSCA.
The proposal also includes spares, maintenance equipment and personnel training, among other support items.
Selling F-35As to the UAE would been controversial because US policy has historically sought to give nearby Israel a qualitative military edge over its Middle Eastern neighbours, many of which have previously invaded the Jewish state and refused to recognise its existence as legitimate. Israel plans to acquire 50 examples of its F-35I, with 23 aircraft already received, according to Cirium fleets data.
However, Israel and the UAE agreed to normalise relations under the Abraham Accords in September. Israeli Prime Minister Benjamin Netanyahu agreed tacitly to allowing the UAE to buy F-35s as part of the treaty negotiated by the USA, according to press reports. Netanyahu since has said he will not oppose the sale of "certain weapon systems to the UAE", so long as Israel maintains a qualitative military edge over neighbours with better weapons.
"The proposed sale will make the UAE even more capable and interoperable with US partners in a manner fully consistent with America's longstanding commitment to ensuring Israel's qualitative military edge," says Pompeo.
The sale of 18 MQ-9B UAVs may also be controversial – though perhaps less so than the F-35A sale.
Typically, these armed intelligence, surveillance and reconnaissance UAVs are restricted to the USA's closest allies due to a Missile Technology Control Regime policy of a "strong presumption of denial". The arms-control agreement classifies the UAV in the same category as cruise missiles capable of delivering a weapon of mass destruction.
However, the Trump administration updated the US policy in July, allowing for case-by-case approvals to sell UAVs with maximum flight speeds less than 432kt (800km/h). Using that new policy, the USA approved Taiwan's pending acquisition of four MQ-9Bs on 3 November.
Included with the UAE MQ-9B proposal are related weapons such as 515 Lockheed AGM-114 Hellfire missiles, Leonardo Seaspray 7500 maritime radars and Sage 750 electronic support measures systems.
Presumably intended to spot and track small Iranian diesel-electric submarines, the MQ-9Bs would come with anti-submarine warfare mission kits, receivers and acoustic processors, as well as SSQ-36B thermometric sonobuoys, SSQ-53G passive sonobuoys and SSQ-62F active sonobuoys.
Lastly, the proposed arms package for the UAE includes $10 billion in proposed bomb, missile and smart-munitions kits. The arsenal is also likely aimed at deterring Iranian aggression.
The UAE's involvement in nearby Yemen's civil war also complicates the arms sale. The UAE withdrew most of its forces in 2019, but was criticised for an aerial bombardment campaign, in coordination with Saudi Arabia, that is alleged to have killed thousands of civilians.
Some of the munitions the USA proposes to sell the UAE
802 AIM-120C8 Advanced Medium Range Air-to-Air Missiles
2,004 MK-82 500lb General Purpose Bombs
1,000 MK-84 2,000lb General Purpose Bombs
1,002 MK-83 1,000lb General Purpose Bombs
2,500 Small Diameter Bomb Increment 1
2,000 KMU-572 Joint Direct Attack Munition Tail Kit for 500lb Bombs
1,000 KMU-556 JDAM Tail Kit for 2,000lb Bombs
1,000 KMU-559 JDAM Tail Kit for 1,000lb Bombs
650 AGM-154C Joint Stand Off Weapons
50 AGM-154E Joint Stand Off Weapon – Extended Range