The US Department of State has approved Jordan's purchase of 16 Lockheed Martin F-16C/D fighters for an estimated cost of $4.21 billion.
The US Defense Security Cooperation Agency (DSCA) delivered the certification notifying US Congress on 3 February.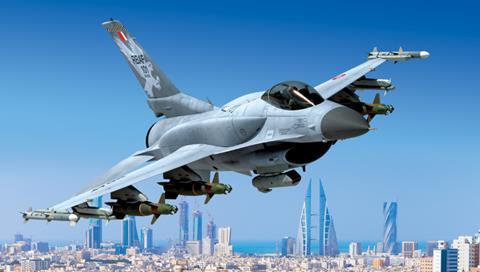 Amman requested 12 examples of the single-seat F-16C Block 70 fighter and four examples of the two-seat F-16D Block 70 fighter.
The Block 70 is the most modern version of the F-16 and includes the Northrop Grumman APG-83 active electronically scanned array radar, automatic ground collision avoidance system, and conformal fuel tanks, among other improvements from the prior generation of aircraft.
Jordan is requesting 21 examples of the Pratt & Whitney F100-229EEP engine (16 installed in the aircraft and five as spares), as well as other subsystems such as GPS, identification friend-or-foe indicators and radios. The country is also requesting spare parts and support equipment.
Along with the jets, the Middle Eastern nation requests 100 KMU-556 Joint Direct Attack Munition (JDAM) tail kits for 907kg (2,000lb)-class GBU-31 bombs, 102 KMU-572 JDAM tail kits for 226kg-class laser JDAM GBU-54 bombs and 100 MAU-209 computer control groups for Paveway II GBU-10 bombs.
"This proposed sale will support the foreign policy and national security objectives of the United States by helping to improve the security of a major non-NATO ally that is an important force for political stability and economic progress in the Middle East," says the DSCA.
The new jets will help Jordan maintain interoperability with US and coalition forces, the agency says.
"These aircraft will modernise the Jordanian fighter aircraft fleet and support operational requirements associated with regional US-coalition goals, such as countering violent extremist organisations, countering malign state and non-state actors, and border defence," it says.
The final sale price for the Foreign Military Sales package will be less than the $4.21 billion estimate, as the proposal contains extra options and is subject to further negotiation and approval by the government of Jordan.
The Royal Jordanian Air Force currently operates 44 single-seat F-16As and 15 two-seat F-16B, with average fleet ages of 37 and 40 years, respectively, according to Cirium fleets data.