The USA has funded 70 efforts to develop hypersonic missiles, and related technologies, between fiscal years 2015 and 2024.
Those efforts, which total nearly $15 billion, are primarily led by the US Department of Defense (DoD), with the Department of Energy and NASA also participating, according to a Government Accountability Office (GAO) report released on 22 March.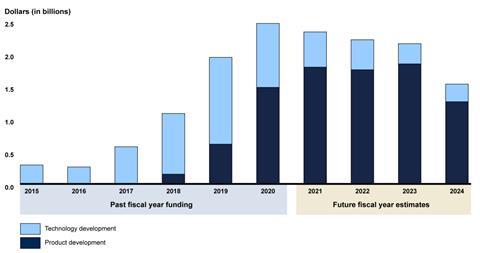 "The majority of this funding is for product development and potential fielding of prototype offensive hypersonic weapons," says the GAO. "Additionally, it includes substantial investments in developing technologies for next generation hypersonic weapons and a smaller proportion aimed at countering hypersonic threats."
Over 60% of the hypersonic development efforts started after FY2017, around the time when it became clear that China and Russia's missile development had leapt ahead of the USA's.
Most programmes – 65 efforts – are in the early technology development stage, focused on basic and applied research, according to the GAO. Of those, 29 are focused on research in aerodynamics, materials, propulsion, chemistry and simulations. There are 36 efforts focused on propulsion, materials, guidance, control, and communication.
The US Air Force (USAF), US Army, and US Navy (USN) have five product efforts underway to develop offensive prototypes.
There are no hypersonic weapons in production yet. "The air force's Air-launched Rapid Response Weapon (ARRW) is expected to be the first to achieve a residual operational capability where production decisions can be made after fielding at the end of FY2022," says the GAO. The USAF's ARRW is a boost-glide hypersonic missile that it plans to carry and launch from the Boeing B-52 bomber.
The USN accounts for the plurality of hypersonic missile development funding, having received $6.2 billion. The USAF has received $3.6 billion. The Office of the Under Secretary of Defense for Research and Engineering accounts for $1.58 billion. The US Army's total equals $1.53 billion. The remainder is split between the Defense Advanced Research Projects Agency, Missile Defense Agency and NASA.
The GAO notes that the Pentagon's efforts to develop and field hypersonic weapons face a formidable list of challenges, including technology that is not yet fully mature, aggressive schedules that risk delays, difficulty estimating costs, problems finding enough engineering talent, issues building manufacturing capacity, as well as trouble finding facilities and air ranges for testing. The DoD has acknowledged and accepted some of the risks, partly as necessary to quickly field a hypersonic weapon, says the GAO.