The US Air Force (USAF) has abandoned mission capability rate goals for its Lockheed Martin F-22s, F-35s and F-16s, after none of the fighters hit the target.
In September 2018, former US secretary of defense James Mattis ordered the USAF and US Navy (USN) to increase mission capable rates for those aircraft and Boeing F/A-18s to more than 80% by the end of September 2019. The mission capability rate is the percentage of aircraft that are able to perform at least one mission over a period of time.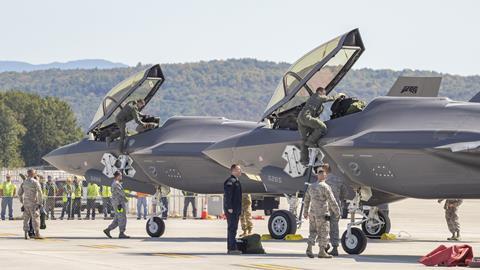 USAF chief of staff nominee General Charles Brown says the service has dropped that readiness goal.
"The Office of the Secretary of Defense determined the fiscal year 2019 80% mission capable rate initiative is not an FY2020 requirement," he said in written testimony sent to the US Armed Services Committee and released on 7 May. "As a result, the air force returned to allowing lead commands to determine the required [mission capability] rates to meet readiness objectives."
After initially making rosy projections about the F-35 reaching 80% mission capability, the Department of Defense (DoD) gradually walked back its forecast. In July 2019, it said F-35s and F-22s would fail to meet the goal. Nevertheless, F-16s were supposed to hit 80% mission capability by September 2019. In the end, not one of the USAF's fighters achieved the mark.
The F-16's mission capable reached a high of 75% in June 2019, F-22s reached a high of 68% in April 2019 and F-35s hit a high of 74% in September 2019, says Brown in his testimony. The USN reported in September 2019 that its fleet of F/A-18s surpassed the 80% mark.
"From April 2018 to February 2020, overall readiness increased 16%, and pacing-unit readiness – those units required in the first 30 days of Combatant Command war plans – increased 35%," he adds.
Despite improvements, the end goal was not reached for a variety of reasons, says Brown.
"Maintaining ageing aircraft is an extremely difficult and expensive task, while new, technologically advanced weapons systems present their own challenges," he says. "We developed and are now implementing a Strategic Sustainment Framework that will both improve materiel readiness and set the conditions for long-term cost reduction by developing multiple sources of supply, enhancing our repair network capabilities and capitalising on conditions-based maintenance, plus other commercial best practices."
Details of the new Strategic Sustainment Framework were not disclosed.
F-35s and F-22s are notoriously difficult to maintain because of complex designs and stealth body coatings, which must be periodically preserved by hand. In particular, the relatively new F-35 remains plagued with design and production problems resulting in some 873 deficiencies, according to the DoD's most-recent Office of the Director of Operational Test & Evaluation report, released to the US Congress on 30 January.