The US Air Force (USAF) has awarded Raytheon a $2 billion contract to start the engineering and manufacturing development (EMD) phase of the Long Range Standoff (LRSO) nuclear cruise missile programme.
Raytheon was given a sole-source contract for its stealthy cruise missile design in 2020 after the USAF ended the LRSO acquisition competition one year early, before the technology maturation and risk phase was complete. That early conclusion sidelined Lockheed Martin's bid for the programme and set up Raytheon to advance to the EMD phase.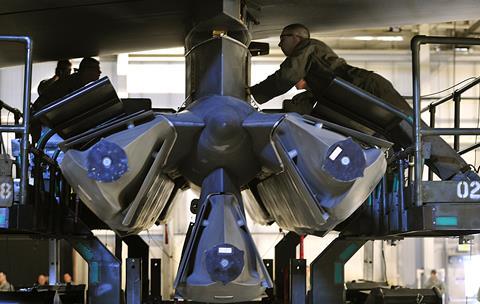 The LRSO is to replace the AGM-86 Air-Launched Cruise Missile (ALCM), the service's current nuclear-tipped weapon. The USAF wants to operate the ALCM through 2030.
"During the EMD phase, manufacturing processes will continue to mature and the manufacturing environment will be demonstrated and transitioned to a pilot line readiness state," says the USAF in a contract notice posted on 2 July. "The objective at the end of EMD is to demonstrate full production readiness."
The EMD phase is expected to be complete by February 2027, says the service. Work will be performed at Raytheon's facilities in Tucson, Arizona.
After the EMD phase, Raytheon's LRSO would receive a Milestone C review to determine if the missile design is ready for low-rate initial production.
The USAF has said that it plans to buy 1,000 to 1,100 LRSO missiles for about $10.8 billion.
The USAF's LRSO and land-based ballistic missile arsenal, the Ground Based Strategic Deterrent, are two important parts of the USA's nuclear triad, a strategy emphasising three options for launching nuclear attacks.
The LRSO would be air-launched from a bomber, such as the Boeing B-52H Stratofortress, beyond the range of an adversary's air defences. Ground Based Strategic Deterrent ballistic missiles would be launched from silos in the USA. The third leg of the nuclear triad are ballistic missiles launched from submarines.