The US Air Force (USAF) successfully demonstrated the Rockwell B-1B bomber carrying and dropping an inert Joint Air-to-Surface Standoff Missile (JASSM) from an external pylon under the aircraft's fuselage.
The test launch is a precursor to reopening more hard points on the belly of the B-1B that were welded shut in 2011 as part of New START, a nuclear arms reduction treaty between the USA and Russia. The USAF wants to use those weapons fixtures for the launch of conventional cruise missiles, including JASSM, the Long Range Anti-Ship Missile (LRASM) and hypersonic missiles.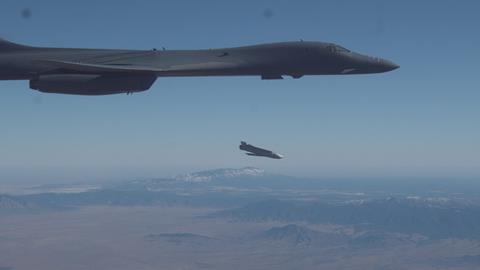 Though New START is set to expire in February 2021, "the return to use of external hard points would not violate the New START agreement", says the USAF.
The 419th Flight Test Squadron demonstrated the cruise missile release at Holloman Air Force Base, New Mexico on 4 December, it says on 10 December. The external pylon that was tested usually carries the Lockheed Martin Sniper pod, an electro-optical targeting system.
"A targeting pod pylon was modified mechanically to allow for different connector configurations, and the internal wiring was replaced with harnesses that would support its new role," says Keith Maynard, the special instrumentation flight chief of 812th Airborne Instrumentation Test Squadron.
It is not clear how many LRASSM or JASSMs could be carried by the B-1B with the external hard-points and its internal bomb bay. However, previously the USAF has said the bomber might be able to carry up to 40 weapons of an undisclosed type.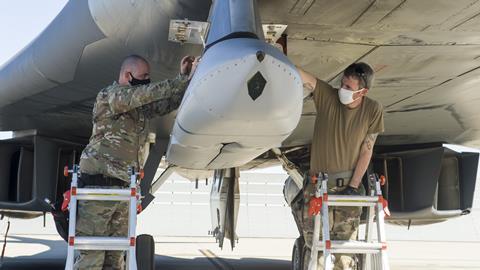 "Arming a limited number of B-1s with more weapons externally, could enable Global Strike Command to provide more weapons for geographic combatant commanders while putting fewer aircraft and aircrew in harm's way," says General Tim Ray, commander of Air Force Global Strike Command.
In 2019, the US Department of Defense increased potential long-term production quantities of Lockheed Martin JASSM from a possible maximum of 4,900 to a possible maximum of 10,000. LRASM quantities were also increased from a possible maximum of 110 to a possible maximum of 400.
The stealthy JASSM and LRASM are seen as crucial weapons for an opening salvo against China or Russia. The weapons have a long range that would allow bombers such as the B-1B and Boeing B-52H to stay outside the reach of enemy fire. Against China, for instance, the cruise missiles would likely be used to destroy surface-to-air missile sites on the mainland or aircraft carriers on the open ocean.