The US Air Force (USAF) has ordered eight Boeing F-15EX fighters as part of a larger deal the manufacturer says could be worth nearly $23 billion.
News of the purchase stands to significantly boost Boeing's defence activities, as its commercial aircraft business struggles amid the coronavirus-driven downturn.
The eight fighters have a value of nearly $1.2 billion, but the larger deal encompasses "the overall indefinite delivery, indefinite quality contract for the F-15EX", according to Boeing. The airframer will deliver the first two jets in the second quarter of fiscal year 2021 and the next six F-15EX in FY2023, the USAF adds.
"Future plans call for as many as 144 aircraft," Boeing says. "Pilots and mechanics currently operating the [F-15C/D] anticipate transitioning to the F-15EX in a matter of days, as opposed to years."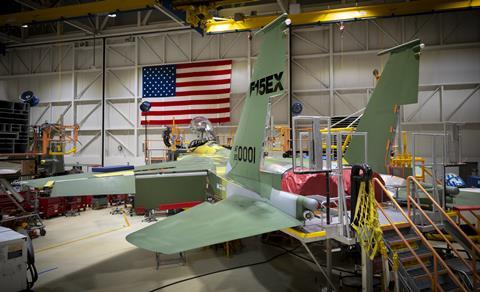 The USAF says it plans to use the jets to replace its ageing F-15C/Ds, and will purchase 76 of the jets over the course of five years.
Boeing programme manager Lori Schneider calls the F-15EX "the most-advanced version of the F-15 ever built, due in large part to its digital backbone".
"Its unmatched range, price and best-in-class payload capacity make the F-15EX an attractive choice for the US Air Force," she says.
The USAF calls the F-15EX's open mission systems (OMS) architecture its most notable feature. "The OMS architecture will enable the rapid insertion of the latest aircraft technologies," it says.
"The F-15EX will also have fly-by-wire flight controls, a new electronic warfare system, advanced cockpit systems and the latest mission systems and software capabilities available for legacy F-15s," the USAF adds.
The deal includes support and engineering costs related to the F-15EX. The service has viewed the jet as a lower operating-cost alternative to Lockheed Martin's F-35, as well as easier to add to its fleet, due to similarities to the F-15C/D. However, the programme was controversial within the USAF as the F-15EX lacks the F-35's stealthiness and would not be able to penetrate the sophisticated air defences of China or Russia.
In May, the USAF asked engine makers for proposals to supply 461 engines to power the F-15EX, stepping back from an earlier plan to issue a sole-source engine contract to GE Aviation.