The US Air Force (USAF) has downloaded target information to a High Mobility Artillery Rocket System (HIMARS) while it was being carried inside a Boeing C-17 Globemaster III cargo aircraft.
The demonstration was conducted in September as part of a test of the USAF's Advanced Battle Management System (ABMS), an in-development battlefield network, General Jacqueline Van Ovost, commander of Air Mobility Command, said on 14 September during the virtual Air Force Association Air, Space and Cyber Conference. It was the first time such a capability has been demonstrated.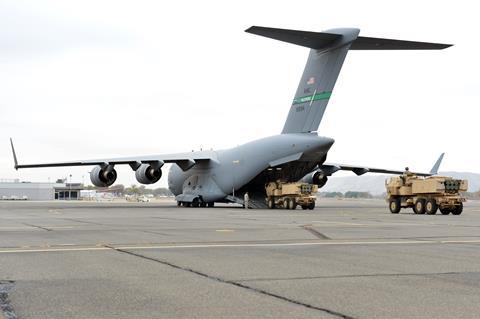 The service touts ABMS as one of its highest priorities. Ultimately, it aims to connect all of its aircraft, as well as equipment for other US military services, so that battlefield information can quickly be passed around the joint force and acted upon.
"During an ABMS on-ramp earlier this month, a C-17 equipped with enhanced communication capabilities provided real-time location updates to the Marine HIMARS weapon system that it was carrying onboard, which allowed the weapon system to be retargeted during the flight, and it fired in a fraction of the time it normally did once it was offloaded," Van Ovost says.
Previously, it has taken joint US Army and USAF personnel about 45min to land a C-17, offload two HIMARS, fire the weapons, reload the cargo aircraft and take off. The tactic is called HIMARS Rapid Infiltration (HI-RAIN).
In addition to HI-RAIN exercises, the USAF, US Army, US Navy and US Marine Corps have demonstrated several different ways of transporting, rapidly setting up and firing the HIMARS vehicle in recent years, including deploying the long-range weapon using landing craft and Lockheed Martin C-130 tactical transports.
Moving the HIMARS around the battlefield with aircraft and landing craft is a new application of the conventional artillery tactic of "shoot-and-scoot". The tactic is used to avoid counter-attack by an adversary who could detect the location of artillery after the first salvo.
Shoot-and-scoot tactics also fit into the USAF's larger strategy of Agile Combat Employment, which envisions constantly repositioning aircraft around a theatre of operations so as to avoid a precise, long-range cruise or ballistic missile attack from China or Russia. The service worries its aircraft are most vulnerable to attack when they are sitting on the tarmac for long periods of time.
The in-flight HIMARS targeting demonstration also comes as the US Army is contracting Lockheed to develop the Precision Strike Missile, a new weapon that would be launched from the HIMARS vehicle with a range in excess of 270nm (500km). The HIMARS currently has a reach of about 38nm, but the service wants its range extended to outdistance Chinese and Russian missiles and artillery.