The US Air Force (USAF) is pondering replacing its Boeing E-3 Sentry Airborne Warning and Control System (AWACS) aircraft, and the commander of the Pacific Air Forces wants the Boeing E-7 Wedgetail.
Chief of staff of the USAF General Charles Brown declined to comment on what should replace the E-3, but said at the Air Force Association's Aerospace Warfare Symposium on 25 February that the possibility needed to be studied.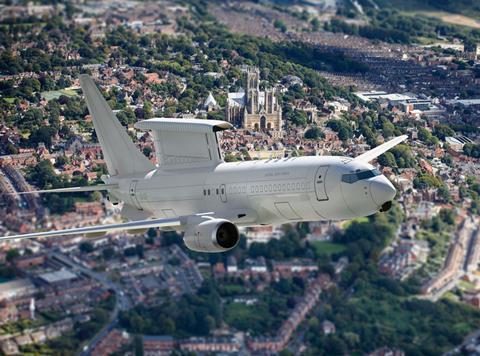 "I want to actually look at, what options do we have? It'd be premature for me to commit to the Wedgetail right now or a timeline," he says. "This is something I've got to spend more time looking at, but I realise there are some Wedgetail fans out there."
The Wedgetail is operated by the South Korean air force, the Royal Australian Air Force and Turkish air force. The UK Royal Air Force has also ordered the aircraft.
The E-7 is based on the Boeing 737NG commercial airliner. It carries a fixed, fin-like Northrop Grumman active electronically scanned array radar antenna atop its fuselage instead of the rotating disc radar carried by the E-3.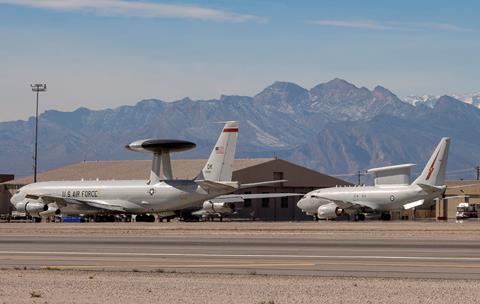 Airborne early warning and control systems like the E-3 and E-7 are used to detect, identify and track enemy aircraft. That information is then used to coordinate a response by US combat aircraft.
The USAF operates 31 examples of the E-3, with an average aircraft age of about 42 years, according to Cirium fleets data. Pacific Air Forces commander General Kenneth Wilsbach says this makes the E-3 difficult to maintain.
"I'm advocating for a replacement to the E-3, mainly because the E-3 is a pretty old airframe and gets challenged at the moment because of how old it is. There's some other technologies out there that are ready, and quite a bit better than the E-3," he said at the Aerospace Warfare Symposium on 24 February. "You would love to say that there's a follow-on technology and maybe we could look at it. But the fact is, we actually need something relatively quick just because of the reliability of the E-3."