The US Air Force (USAF) is asking aerospace manufacturers for experimental ideas to use in its future long-range air-to-air missiles.
The ideas could be incorporated into missile designs that come after the service's current Raytheon AIM-120 Advanced Medium-Range Air-to-Air Missile and the in-development Lockheed Martin AIM-260 Joint Advanced Tactical Missile. Generally, the USAF wants ideas for weapons that significantly exceed the range of currently fielded systems, while minimising flight time.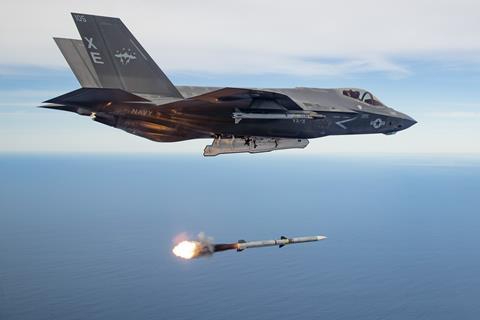 Yvette S Weber, acting deputy assistant secretary of the USAF for science, technology and engineering, says the service is not set on any particular technology, but released a request for information (RFI) on 4 May as part of a broad search of new long-range air-to-air missile technologies. The ideas would inform the service's technology roadmap. Proposals from industry respondents are due by 18 June.
However, some ideas the service wants to explore could start one of the biggest rethinks of the air-to-air missile shape in decades.
For example, the USAF is interested in hearing about ideas for lifting body missile airframe designs. This is a radical departure from the tube-and-fins profile that have characterised air-to-air missiles for decades.
Lifting body vehicles are wingless aircraft that gain lift from the aerodynamic shape of their fuselage. Two well-known examples include the teardrop-shaped X-24A and the flatiron-shaped X-25B. Those rocket-powered gliders were jointly developed by NASA, the USAF and Martin Marietta in the 1960s and 1970s to show the ability to manoeuvre and land a wingless spacecraft after re-entering the Earth's atmosphere from outer space.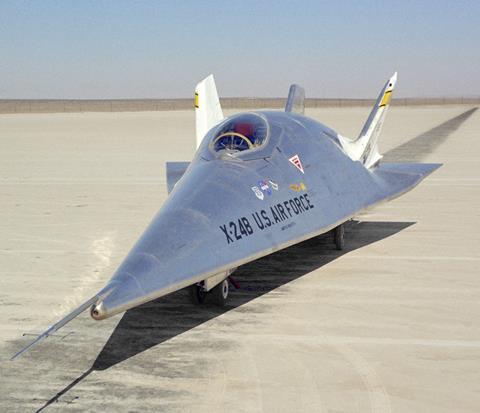 "The use of a lifting body missile airframe has the potential to increase the range of a system by optimising flight profile to take advantage of the airframe's shape," says Weber. "However, there are potential concerns with regard to manoeuvring capability in comparison to a cylindrical missile. The air force doesn't currently have any systems like this."
Some of the aerodynamic principles that were developed and tested with previous lifting body aircraft are transferable to various Mach regimes for air-to-air missiles, says the USAF.
"Lifting bodies offer a lot of potential for increased range and also novel control systems," says Weber. "If you can control your missile without a lot of additional drag you can go further."
Departing from conventional missile shapes might have other benefits.
"If you don't stick to the tubular missile constructs, maybe you can have increased loadout in some cases, depending on the shapes that you could come up with," says Weber. "There's definitely a trade space for novel airframes if we, in the future someday, move away from the traditional missile shape."
The USAF is also interested in exploring morphing missiles. Morphing aircraft change shape in different phases of flight to optimise aerodynamic performance. NASA has built several morphing wings in recent years to demonstrate the concept.
"That's also an area that sounds like science fiction, but there's been some good research done to suggest that perhaps that's something that we could look to the future for," says Weber.
Weber cautions that the USAF is not just interested in revolutionary concepts, but also wants to hear about ideas for evolutionary improvements to missile design. For example, the service is looking for new proposals around a fighter aircraft's carriage and release system.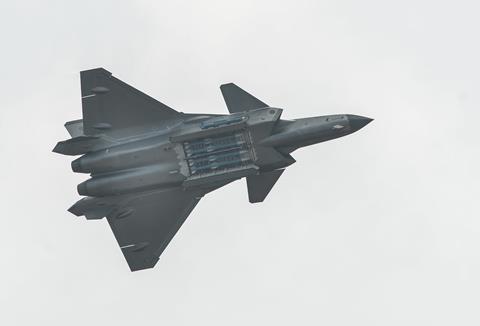 Fifth-generation fighters, such as the Lockheed Martin F-35 and F-22, have internal weapons bays to reduce their radar signatures. However, that also limits the number of missiles they can carry. The USAF is looking for novel ways to cram more missiles into weapons bays. The service wants missile lengths not to exceed 4m (13.1ft).
In 2019, Lockheed revealed that it had developed a new weapons rack, called Sidekick, that would allow the F-35 to carry six missiles instead of four.
In addition to increased storage capacity, the air force wants to hear about new ideas for holding missiles in the weapons bay.
"When we're talking about long ranges, you really need that weapon to be as clean as possible," says Weber. "What I mean is free of bumps or roughness, surfaces like lugs that you would use to hold that missile onto a carrier."
The USAF is interested in hearing about ideas for retractable lugs or lugs that shear off, as well as entirely different ways of holding missiles that do not incorporate mounting extrusions which create aerodynamic drag and result in reduced range.
Interest in beyond-visual-range missiles come as China's air-to-air PL-15 missile, introduced in 2018, has outdistanced the range of the USAF's currently fielded AIM-120. Beijing's weapon reportedly has a reach of 108nm (200km).
Fears of being outgunned has sparked an arms race. To catch up in the short-term, the USAF is investing in the AIM-260. Details on that missile are sparse and the service declines to comment on its progress. The AIM-260 is reportedly scheduled to reach initial operating capability in 2022.
Propelling missiles faster and further will likely require new propulsion systems. And so, the USAF is interested in single-stage solid rocket motors, multi-stage solid rocket motor and jet engines. More specifically, the request for information mentions interest in multi-pulse solid rocket motor, throttle-ability, new propellants, as well as novel grain configurations and cases and liners. Thrust vectoring is also of interest, says Weber.
The USAF also wants smarter missiles. It is looking for improvements to guidance, navigation and control systems, including optimised guidance algorithms, and compact M-Code GPS. To power those electronics, it is looking for advanced batteries and ultra-capacitors.
Ultimately, the service wants its next-generation missiles to be networked and is coordinating closely with its Advanced Battle Management System experiment so that the weapons are integrated into a future battlefield network.
"Our success in the future will be largely dependent on our ability to connect and have data flow all across the system and all the way to the edge. That means all the way to the weapon," says Weber. "That's why we include that type of technology in this very general RFI. The future is about how we connect."