The US Air Force (USAF) plans to start testing adaptive engine prototypes from GE Aviation and Pratt & Whitney in early fiscal year 2022.
Tests on the two engine designs – GE's XA100 and P&W's XA101 – will run throughout the year at Arnold AFB's Engineering Development Complex near Tullahoma in Tennessee, the USAF Materiel Command said on 22 September.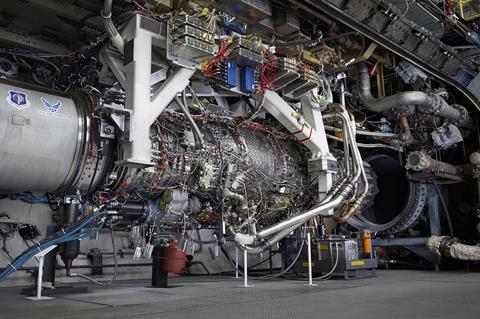 The USAF's Adaptive Engine Transition Program (AETP) is intended to provide a 30% increase in range, an 18% decrease in acceleration time and improved thermal management compared to the P&W F135 engine that is currently fielded in the Lockheed Martin F-35 stealth fighter, according to the USAF Materiel Command.
Adaptive engines work by changing the volume of air flow that bypasses the turbine core by opening a third stream when flying in cruise mode. This third flow – in addition to the core flow and bypass turbofan flow – increases efficiency.
Alternatively, in high-thrust mode an adaptive engine directs the majority of air through the engine's core and bypass turbofan streams, delivering greater thrust for combat manoeuvering. The third flow also has a cooling effect, allowing the core to run hotter, which further increases fuel efficiency.
The USAF is interested in re-engining the F-35A with an adaptive engine to increase the aircraft's 1,200nm (2,220km) range, which is viewed as too short for attacking targets within China.
The service says it has already performed a digital fit check to show that the two adaptive engines will integrate with the stealth fighter. Physical fit checks are not yet planned, it says.
The F-35's current F135 engine has been plagued with a number of issues, including components problems, part shortages and unaddressed repair needs caused by lack of depot capacity. As a result, 46 USAF F-35As were grounded last week, said Lieutenant General Clinton Hinote, deputy chief of staff for strategy, integration and requirements on 20 September during the Air Force Association's Air, Space and Cyber Conference in National Harbor, Maryland.
In order to improve quality and reduce costs, US House Armed Service Committee Chairman Adam Smith has advocated using AETP as the basis for an engine replacement competition for the F-35.
However, General Arnold Bunch, commander of USAF Materiel Command, said on 20 September that he is not ready to commit to replacing the F135 with an adaptive engine. It may make more sense to adopt technology improvements developed from AETP in a piecemeal fashion, he says.
Ultimately, he sees the goal of AETP as advancing cutting edge jet turbine technology. "It's an area that we have a decided advantage today and we need to keep that decided advantage," says Bunch.