Secretary of the US Air Force (USAF) Frank Kendall is forcing a reassessment of one of the service's highest-development priorities, its Advanced Battle Management System (ABMS), after asking "hard questions" of the imagined battlefield network and receiving "answers that weren't that good".
The service has championed ABMS as a critical network to pass targeting information around the battlefield – shortening the time taken to coordinate and launch attacks. For example, the USAF envisions sensors on stealth aircraft spotting targets and then transmitting target data to other aircraft, perhaps unmanned air vehicles, that could take a shot.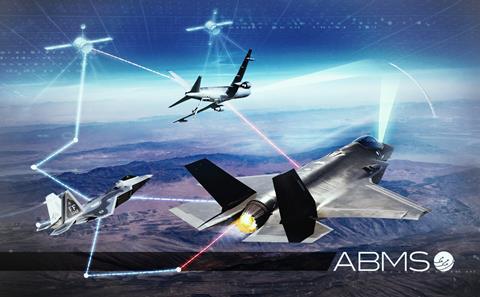 However, the service's open-ended effort to develop ABMS has been criticised as ill-defined.
The programme lacked a "sound business case", according to a US Government Accountability Office report released in April 2020. The report noted that the USAF lacked firm requirements for the technology, a plan to develop technology and a cost estimate.
More than 50 companies have received indefinite delivery/indefinite quantity (ID/IQ) contracts worth between $1,000 and $950 million to develop pieces of ABMS by 2025. ID/IQ contracts are open-ended agreements often used for buying maintenance services. The Department of Defense (DoD) sees the contracting method as less restrictive than conventional processes and has adapted it to facilitate rapid prototyping. Using ID/IQ contracts the Pentagon has conducted a series of ABMS demonstrations in recent years.
In a speech at the Air Force Association's Air, Cyber and Space Conference in National Harbor, Maryland on 20 September, Kendall said he appreciates innovation but believes the service must focus on developing specific, practical military technologies within a defined time.
"We should not be doing demonstrations and experiments unless we can link them to true operational improvements and unless they move us down the field to lower-risk acquisition programmes," he says. "I intend to strengthen these linkages and to use state of the art analytical tools to help do so."
A lack of concrete goals has dogged ABMS, he says.
"This programme has not been adequately focused on achieving and fielding specific measurable improvements in operational outcomes," says Kendall. "That means focusing on… [putting] meaningful military capability into the hands of our operational users. It does not mean [developing] one or two leave-behind, unmaintainable token prototypes that came out of experiment."
Lieutenant General Clinton Hinote, deputy chief of staff for strategy, integration and requirements, says Kendall has "asked hard questions about our approach to ABMS and we are answering those questions. And, in some cases, our answers weren't that good."
For example, Kendal wants to know: Where is targeting data within ABMS collected? What bits of data need to be fused? Where will data be sent? What radio waves will be used? Where is information gathered and presented to commanders?
"Those are valid questions," says Hinote. "He has an engineering background. He holds our feet to the fire on those questions."
Kendall, who served 10 years on active duty with the US Army after graduating from the US Military Academy at West Point, earned a master's degree in aerospace engineering from The California Institute of Technology.
Hinote says the scope of ABMS, which previously was intended to connect the entire USAF, is likely to be refined into "a forward-edge node or forward-edge network" – possibly meaning the effort will focus on passing information between stealth aircraft, such as Lockheed Martin F-35s and F-22s, within contested airspace.
"The actual radios we use to make that happen, and the waveforms we use to make that happen, we are still inventing that," says Hinote.