The US Air Force (USAF) is testing the avionics and other subsystems of the Northrop Grumman B-21 Raider on an undisclosed surrogate aircraft while the first example of the stealth bomber is built simultaneously.
The service believes the effort will keep development of the flying-wing aircraft on schedule, says Randall Walden, director and programme executive officer for the USAF's Rapid Capabilities Office, on a Mitchell Institute conference call with reporters on 13 August.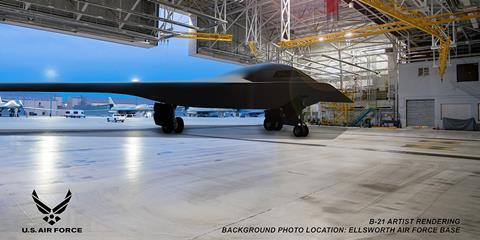 "We have a flight-test aircraft that we've been hosting some of those subsystems on to buy down the risk so [that] the first time it's introduced into an air environment is not on the bomber," he says. "We're doing it in a parallel approach, working out some of the bugs with the software as well as the subsystems. And then all of that great knowledge is going to go in when we integrate it into the bomber."
Despite difficulties posed by the coronavirus, the B-21 is progressing well and remains on track to make its first flight in December 2021, says Randall. However, anticipating that there could be problems the USAF is trying to find issues early.
"I think the higher risk is not doing [parallel subsystem testing] and hoping that we get it installed correctly and it works [from] day one on the flight test bed," says Randall. "One thing we have learned is, when you can buy down risk with subsystems, even on another platform, no matter what it is, you get into the air and use some of the software and work those bugs out. It goes a long way when you first put it on the final system."
The B-21's first flight is expected to be from Air Force Plant 42 in Palmdale, California – where it is being built – to its testing site at Edwards Air Force Base. The flight is a short distance north across the Southern Californian Mojave Desert, about 19nm (35km).
One of three legs of the USA's nuclear triad – a deterrence strategy based on the ability to launch nuclear strikes from aircraft, submarines and ground-based ballistic missiles – the B-21 is to replace the USAF's aging fleets of Northrop Grumman B-2 Spirit and Rockwell B-1 Lancer bombers. The service wants to buy at least 100 examples of the Raider.
The B-21 is expected to reach initial operational capability in the middle of the 2020s.