The US Air Force Special Operations Command (AFSOC) aims to consolidate multiple aircraft roles into its Armed Overwatch aircraft programme in order to save money on the War on Terror.
AFSOC is stretched thin as it tries to keep up the fight against terrorist groups while also preparing for possible conflict against Russia and China. It sees Armed Overwatch aircraft as capable of taking over the jobs of several specialised platforms, such as manned intelligence, surveillance and reconnaissance (ISR) aircraft, fighters, bombers and gunships.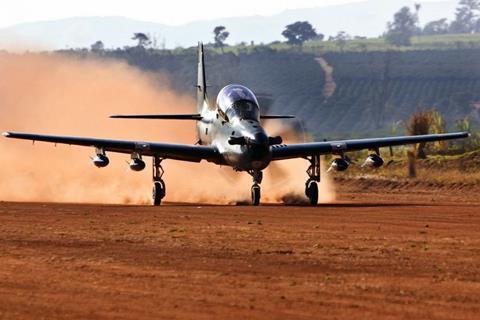 The programme envisions using a light-attack and armed reconnaissance aircraft, such as a Sierra Nevada/ Embraer A-29 Super Tucano or Textron Beechcraft AT-6 Wolverine, to conduct close air support and strike missions against terrorist groups and Islamic insurgences. The command has not decided on its final requirements, but is looking to buy commercially available aircraft for the role.
AFSOC plans to conduct further demonstrations of Armed Overwatch in the coming months using funding appropriated by the US Congress for fiscal year 2021. It will take the results of those demonstrations back to Congress, along with a final requirements document in the hope that it will get funds to start acquiring aircraft in FY2022, Lieutenant General James Slife, AFSOC commander, said during a Mitchel Institute webinar on 16 February.
AFSOC wants to use a new class of aircraft for air strikes because its current way of operating is too expensive, says Slife. The current concept of operations was designed around 2005 and 2006 when the USA was fighting insurgencies in Iraq and Afghanistan.
"Over a target area, we would build a stack of airplanes from 10,000ft to 25,000ft, consisting of gunships, manned ISR, unmanned ISR, electronic warfare and [close air support], fixed-wing fighters and sometimes even bombers," says Slife. "We would build this stack for 15,000ft to bring airpower to bear on a very discrete target on the surface of the earth. That model is not viable for the future. It's not cost effective.
"We need to collapse the stack into a smaller number of platforms. And, that's where this Armed Overwatch capability comes in," says Slife. "It's going to have some reconfigurable ISR capability. When needed, it will be able to provide [close air support]. It's really a multirole airplane capable of operating with a light logistics footprint in small disaggregated teams in very austere regions."
It is important that the aircraft be able to operate from a host nation without drawing much attention to itself, he adds.
The US Air Force had a similar programme called Light Attack. Via turboprop aircraft like the A-29, it aimed to replace using expensive strike aircraft, such as the Boeing F-15E or Lockheed Martin F-35A. That programme was cancelled in 2020.
"This is not a rehash of the air force Light Attack programme," says Slife. "[Special Operations Command] envisions this as more of a multirole platform that can level-deliver precision munitions."