If aerospace manufacturers were not already motivated enough to design their latest aircraft using much-talked about "digital engineering" software programs, secretary of the US Air Force (USAF) Barbara Barrett says anyone who does so will have their aircraft prefixed with the letter "e".
The first aircraft to receive the honorific is the Boeing eT-7A Red Hawk, the service's next-generation jet trainer that was designed using model-based engineering and 3-D design tools. The USAF claims that digital engineering allowed Boeing to seamlessly transform its schematic into a metal aircraft with few time-consuming design errors. Ultimately, that meant 80% fewer assembly hours were needed compared to a conventional development method. The service notes that the jet "moved from computer screen to first flight in just 36 months".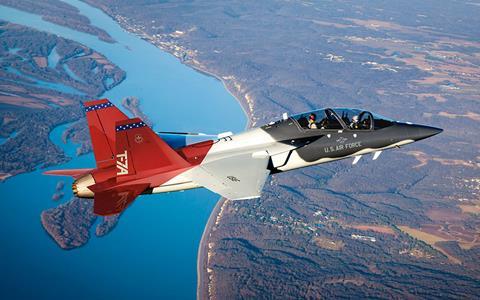 The USAF wants others to follow what it sees as Boeing's exemplary use of digital engineering.
"To inspire companies to embrace the possibilities presented by digital engineering, today the Department of the Air Force is announcing a new weapons system designator – the 'e' series," Barrett said during the virtual Air Force Association Air, Space and Cyber Conference. "Aircraft, satellites, weapon systems and more that are digitally engineered will receive an 'e' prefix."
The USAF is calling the initiative the digital eSeries.
"An eSeries digital acquisition programme will be a fully-connected, end-to-end virtual environment that will produce an almost perfect replica of what the physical weapon system will be," says the service.
The USAF did not respond to a question about the exact portion of an aircraft that must be designed with digital tools to receive the "e" designation.
"The service acquisition executive will determine whether an acquisition programme meets the digital acquisition threshold. If the system meets the digital acquisition requirements, the 'e' designation will be authorised for use on that programme," says the service, adding that the "e" prefix will be dropped once an aircraft heads into its production phase.
The digital eSeries is not to be confused with the Digital Century Series, an effort to build a series of next-generation fighter aircraft using digital design tools.