The US Air Force's (USAF) decision to cancel the Hypersonic Conventional Strike Weapon (HCSW) and proceed with Air-Launched Rapid Response Weapon (ARRW) came down to size and shape of the missile, in addition to budgetary pressures and a desire to move toward production faster.
The HCSW programme was cancelled several weeks ago. The ARRW programme passed its critical design review on 27 February.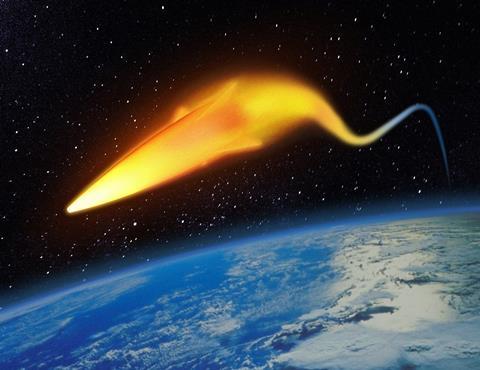 Still, the HCSW missile was promising, says Will Roper, assistant secretary of the USAF for acquisition, technology and logistics, a the Air Force Association Air Warfare Symposium in Orlando, Florida.
"I truly, truly hate having to down select between HCSW and ARRW a year early," he says. "The team of Lockheed Martin and our government team were green, ready to get to flight testing in the next year and so you hate to have to take a programme that can get to flight test and make a decision a year early."
The USAF awarded a $780 million contract to Lockheed Martin 2017 to develop ARRW. It is a so-called boost-glide hypersonic system; a vehicle which is dropped from an aircraft and then uses a rocket to accelerate its payload to high speeds, before the payload separates from the rocket and glides unpowered to its destination at hypersonic speeds up to Mach 20.
The HCSW, also a boost-glide missile, was funded with a $928 million development contract that was awarded to Lockheed Martin in 2018.
The Pentagon had to decide between the two missiles because the USAF's FY2021 budget request, which totaled $169 billion, was flat compared to the previous year and several new expensive initiatives are to burn up cash. In particular, the service plans to spend heavily on rebuilding its nuclear armament via the Ground Based Strategic Deterrent programme, its space capabilities via the newly formed Space Force and its networking ability via its Joint All Domain Command and Control effort.
"Those are huge initiatives and they took a lot of the budget. We had to make tough choices, and one of them was down selecting early," says Roper.
Ultimately, ARRW was chosen over HCSW for several reasons.
The reason that we went with ARRW was not that HCSW was bad, but ARRW is smaller. You can carry twice as many on the B-52," says Roper. "It's possible it could go on the F-15, if we don't experience mass growth, but we haven't validated that yet. It's in class to be able to fit on the center line."
Having ARRW in the Pentagon's quiver also adds variety to its selection of hypersonic weapons.
"ARRW is a unique design and it's a more advanced design," says Roper. "At the department portfolio level, it diversifies the number of flight bodies that are being looked at so you're not all looking at the same thing."
Choosing a hypersonic weapon also allows the USAF to focus on quickly producing the missile.
"In both programmes, we have single suppliers," says Roper. "We would like to get to duel suppliers for both so that we don't just succeed in flight testing, [but] we move into an industry base that's capable to produce at scale."
The service doesn't aim to produce hypersonic weapons at a massive scale, but instead wants to be able to have an "agile, adaptive industry base that can allow us to do spiral upgrades, [production] lot to lot," he says.
"We're really looking at suppliers who can 3-D print components, like leading edges that we think we'll need to iterate on, so that we've got an adaptable agile industry base where we don't have single points of failure," says Roper. "By down selecting earlier, we're able to start bringing on the second supplier."
The HCSW programme will continue development a little longer, despite being cancelled.
"We will close out [critical design review] for HCSW, so that we tie up that design in case it needs to be started in the future," says Roper.