The US Air Force (USAF) plans to disassemble and make 3D digital scans of two Lockheed Martin F-16 fighters mothballed in the Arizona desert.
The effort is intended to give the service the precise specifications of the aircraft's parts and airframe so that it can reproduce components in the future, possibly contracting work to new manufacturers. The USAF believes that having a "digital twin" of the F-16 will help lower future sustainment and modernisation costs, it said on 5 July.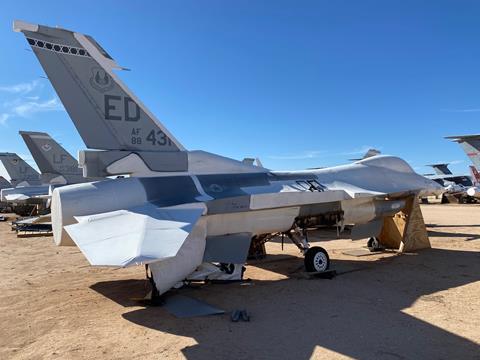 "Our goal is to create a full-scale 3D model of the aircraft, with the exception of the engine," says First Lieutenant Connor Crandall, digital twin programme manager within the F-16 programme office. "The data will be used to help address future parts obsolescence, and mitigate supply chain risks because we won't have to rely on legacy manufacturing sources and processes. We'll have the 3D models, and designs that we can send to the manufacturers we choose."
The Air Force Life Cycle Management Center's F-16 programme office is sponsoring the project via a contract with Wichita State University's National Institute of Aviation Research in Kansas. That research institute will also create 3D models of some of the larger components on the aircraft such as the environmental control, hydraulic and fuel systems.
The two F-16s are stored at the 309th Aerospace Maintenance and Regeneration Group at Davis-Monthan AFB in the Arizona desert. After being dissembled, the broken-down fighters are expected to be transported to Wichita by 30 September.
The attempt to create a digital replica of the F-16 comes amid a push by the USAF to see manufacturers embrace "model-based systems engineering" software, which allows for the creation of a common set of digital designs for engineering, manufacturing and maintenance, as well as flight simulations.
The F-16 was developed many years before the introduction of model-based systems engineering, reaching initial operational capability in 1979, hence the effort to scan and replicate its specifications in a 3D model. The service also launched a similar effort with Wichita State University to create a digital replica of the Boeing B-1B Lancer supersonic bomber in October 2020.
The USAF is also promoting the creation of digital twins for its clean-sheet aircraft. Last September, it designated its new advanced jet trainer, the Boeing T-7A Red Hawk, with an "e" prefix to emphasise the importance of using model-based systems engineering.
VENDOR LOCK
The USAF has been looking for ways to break so-called vendor lock, a problem where the service has only one supplier for a component, software program or aircraft. Suppliers often use this monopoly power to charge premiums for their work, driving up the cost of maintaining the fleet.
By having its own set of digital specifications the service could, in theory, force multiple manufacturers to compete for business to supply parts. It could also bring some MRO work in-house, for example, by having its maintenance groups use 3D printers to recreate parts.
MRO contract work for the F-16 is significant. The USAF has a fleet of 1,017 F-16C/D fighters in service. And, the type is the most widely flown fighter in the world, with 2,964 examples in operation across the globe, according to Cirium fleets data.
Yet, despite being a major recipient of contracted MRO work for the F-16, prime manufacturer Lockheed is participating in the digital engineering effort.
"Using a proven platform like the F-16 to advance digital twin data models allows our team to demonstrate a further reduction in lifecycle cost for sustainability while also introducing additional capability through digital thread continuity," says Aaron Martin, programme manager for Lockheed Martin Skunk Works StarDrive, the company's proprietary digital engineering program.
By creating a digital replica of the F-16, the USAF says it "expects to save time and money on sustainment".
"It costs a lot of time, money, and effort to break out an aircraft for updates and repairs," says Captain Jamee Boyer, an F-16 structural engineer. "It also costs money to develop a solution that doesn't really work. With a 3D model, we can model different solutions in a virtual environment and see if they work, before having maintainers remove parts that may not need to be removed. Consequently, this would reduce maintenance workload, provide an innovative tool for engineers, and prevent aircraft being removed from the flying schedule."
A digital model could also help the USAF and Lockheed upgrade the F-16 with new weapons, improved parts, and upgrade electronics faster.
"Developing a virtual engineering environment that integrates structures and systems components will provide a virtual test bed for future modifications and other sustainment actions prior to physical implementation," says Melinda Laubach-Hock, F-16 programme manager and director of sustainment at Wichita State University's National Institute of Aviation Research.