As Qatar Airways looks to defer its large orderbook with Airbus and Boeing, group chief executive Akbar Al Baker warns that there will be consequences if airframers try to force the delivery of new aircraft in the current climate.
Meanwhile the airline has earmarked many older Airbus aircraft for retirement as it restructures amid the coronavirus crisis, but there should still be a place for some Airbus A380s.
Qatar Airways intends to retain its 170 orders with Airbus and Boeing but is rescheduling deliveries. "We will not cancel any of our orders. We have pushed them back," Al Baker told FlightGlobal in an interview.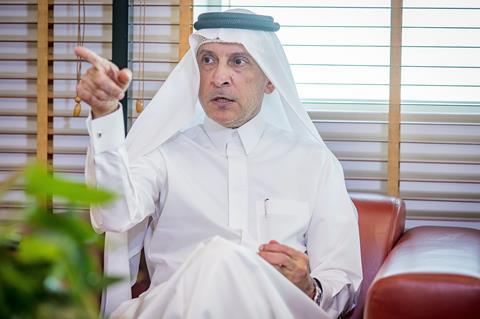 The orderbook comprises a mix of Airbus A320neo family aircraft and A350s, and Boeing 777Xs and 787s. Near-term deliveries due in the next two to three years have been deferred and some orders could be rescheduled by up to a decade.
"But both manufacturers should note that Qatar will not be bullied to accept aeroplanes that we do not have any need for during the pandemic," warns Al Baker. "We should have the ability to delay deliveries – nobody expected something like this to happen."
Al Baker says the aircraft manufacturers have enjoyed the benefits of the airline's business in the good times and "should know they have to stand with us at difficult times….so now it is time for them to support us.
"If they don't, we will still not accept those aeroplanes and if necessary we will litigate. But if we go that way, then they should know that we will never do business with them again," Al Baker states. "There are only two manufacturers so you have to do business with one – but we have other ways of not letting them get direct benefit from the airline – I don't want to dwell on what that is but I'm sure they know."
However, Al Baker says that the airline doesn't "want to be unfair" about taking aircraft that had been awaiting delivery as the virus struck. "There are aircraft that are already built and we will try to have a mutually acceptable accommodation on those very small number of aeroplanes."
Two fifths of the Qatari flag carrier's fleet of some 240 aircraft are grounded, and many of those will not return to service, says Al Baker.
"Over 40% of my fleet is on the ground. Nearly 20-25% of that fleet will not fly again. We are going to ground the entire A330 fleet and a large part of our A320 fleet."
The airline's current fleet, according to Cirium, comprises 33 A320/A321ceos. The A330 passenger fleet totals 18 aircraft. The oldest examples of both these types were delivered more than 15 years ago.
While Al Baker says that only "very few" of the airline's Boeing 777s will not be operated, the outlook for the A380 is mixed: "The entire A380 fleet will not fly for at least a year if not more, because we don't see that there is any market for an A380-sized aircraft," he says. "It will only be a miracle if we operated some of those aeroplanes earlier, depending on how the rebound in air travel will come."
All 10 of Qatar Airways' A380s are currently stored, and Al Baker indicates that the prospect of the entire fleet being revived is not too bright – particularly given his previous declarations that the type would likely be retired once reaching 10 years of age.
"I don't think we will need more than a maximum of seven aircraft in the near term. We have already shelved the plan to upgrade the product until they retire from the fleet," Al Baker says. "The oldest aircraft is only six years old so we still have another four years for its use."