Emirates Airline president Tim Clark expects the Airbus A380 will continue to be a "hugely potent" tool once the industry begins recovering from the post-coronavirus crisis. But he warns that it will hinge on the roll-out of a global inoculation programme against the disease.
In an interview with consultant John Strickland during this week's Arabian Travel Market virtual event, Clark was asked about the future of large airliners like the A380 following the pandemic. The airline's fleet of 115 A380s have all been grounded since late March in the wake of the coronavirus pandemic.
"Much will depend on whether we'll get the vaccine and global inoculation programmes in place, and if you get that, [the crisis] will all be behind us and we'll get back to business as usual," he says.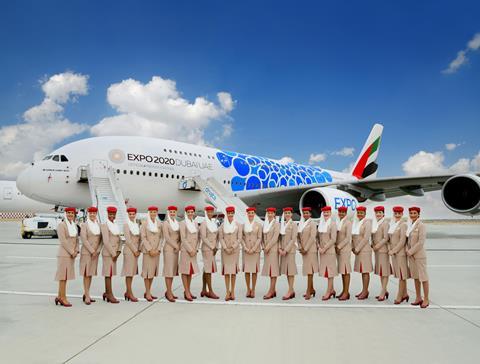 Clark expects that if a vaccine is rolled out quickly, the short-term effects of the crisis will "probably last a year while primary [market] segments – corporate, leisure, VFR [visiting friends and relatives] - sort themselves out".
But he's confident the business will return and says it "would be folly to exclude large widebodied aircraft in the future. The A380 has proven to be a hugely successful aircraft and if fuel prices were forever to stay at today's levels, this aircraft is hugely potent.
"Providing that demand holds up with the mass-vaccination scenario, I do not subscribe to this 'new norm'. There will be differences as a result of what has happened – but will this be a paradigm change in everything that goes on in the global economy – no it won't. The thirst for travel will come back."
However, the scenario where a vaccine does not become available, and the industry has to adopt the current short-term measures to counter the virus spreading for much longer, "will introduce high level of conditionality into the drivers of demand for air travel", Clark warns. But if a global inoculation programme is implemented, "then the A380 has a place".
Cirium fleets data shows Emirates has a firm backlog of over 200 aircraft, including 58 A350s and A380s from Airbus and 145 777Xs and 787s from Boeing. Clark hints that the airline will seek to renegotiate the size or schedule of these commitments but not until it better understands the impact of the crisis on its business.
"We have an orderbook which is pretty substantial and as part of our assessment of what life is likely to be in the next two or three years will have a bearing on what we do with the manufacturers. And, hopefully, this will be done to mutual benefit," he says.
The airline's last eight A380s had been due for delivery over the next year or so. While Clark does not disclose the status of the schedule, he says the first aircraft equipped with Emirates' new premium economy cabin "is sitting in Toulouse waiting to go".