After suffering operational disruptions from the suspension of Boeing 737 Max deliveries and the type's grounding, South African airline Comair is reassessing its commitment to the new family and is looking to fast-track discussions with Boeing over compensation.
Johannesburg-based Comair, which flies franchise services for British Airways, operates 14 737-800s alongside six 737 Classics, according to Cirium fleets data. It had taken its first of eight 737 Max 8 aircraft (below) just prior to the Ethiopian Max 8 crash on 9 March 2019. That crash resulted in the global fleet being grounded and Boeing suspending deliveries indefinitely.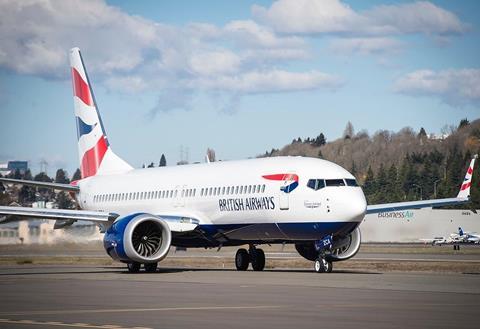 "Following the delivery of the first Max in February 2019, the fleet renewal process, which was underway, hit some major [hold-ups]," says Wrenelle Stander, chief executive of Comair.
The CEO addressed the UK Aviation Club in London via a video link from Johannesburg instead of a personal visit due to South African coronavirus travel restrictions. Stander outlined the impact of the grounding on the airline's fleet planned roll-over.
"Since [the grounding] we've taken delivery of five -800s which is part of the fleet renewal progress. But we've only taken one of the eight Max aircraft on order," she says.
"We as an organisation continue to incur cumulative costs and disruption to fleet availability. The grounding also hampers the group's ability to forecast fleet requirements, because we really don't know when the Max will be in operation again."
With a year passed since the grounding and no clarity as to when it will end, Comair is upping the tempo in its talks with Boeing.
"Comair has contributed $45 million in pre-delivery deposits towards the Max order. And this is, of course, cash which is locked up," says Stander. "The ongoing uncertainty has prompted Comair now to accelerate compensation negotiations and to explore the legal and financial consequences of where we find ourselves today."
Stander says that the grounding has put much of its fleet-renewal programme into limbo and prompted a reassessment of its original decision to order the Max.
"We should have had three Max aircraft delivered by now. Given the grounding, we've had to take more expensive short-term options, doubling the costs in quite a number of areas," she says.
The airline has extended the lives of three 737-400s to allow them to remain in service until the end of 2020. But, any further extensions will require investment in heavy maintenance and will not be implemented without an additional cost-benefit analysis.
"The Max decision was made in 2012…and there's a lot of discussion within the organisation about whether that was the right decision," says Stander. A switch in strategy to take more 737-800s instead of the Max order "is definitely something we're considering at the moment".
However, Comair is committed to remaining a 737 operator: "We would not contemplate Airbuses or a mixed fleet at this point because we want to standardise and simplify operations," Stander says.