EasyJet is stressing the development of zero-emission aircraft as the solution for the narrowbody airliner of the future to meet its commitment of achieving net zero carbon emissions by 2050.
"We are very optimistic about zero emissions flight for the future – we can see there is a credible pathway," says David Morgan, director of flight operations at EasyJet, speaking to the media at the Pioneering Sustainable Aerospace summit hosted by Airbus in Toulouse on 21 September.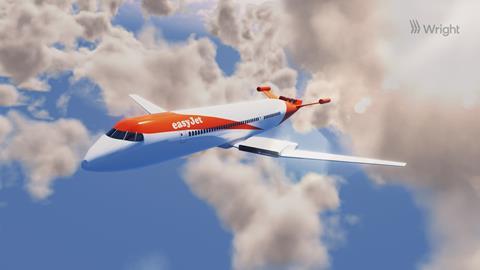 EasyJet will use sustainable aviation fuels (SAF) as part of its strategy to reduce emissions, but "we can't see SAF as a long-term solution for short-haul aviation," says its chief executive Johan Lundgren, also speaking at the summit. According to Lundgren, SAF is an "offset mechanism" as it has "similar qualities to kerosene when you burn it" and that too much focus on SAF could "hinder progress" to zero-emission aircraft.
"This does not mean EasyJet is anti-SAF at all" as it has an important role to play as one of the pathways to net zero emissions, but it is "an interim measure", says Morgan. EasyJet will fly with SAF where it is mandated in Europe, with its operations in France being an early application as new SAF usage rules are introduced there in 2022, he says.
Barry Biffle, chief executive of US low-fare carrier Frontier Airlines, speaking via video link at the Airbus Summit, agrees that SAF have a role to play on the pathway to net zero but his carrier is focused today on improving fuel efficiency via its investment in new Airbus A320neos and by encouraging operational efficiencies in the air traffic control system. He likened SAFs to the marketing of clean coal or like filtered cigarettes.
EasyJet is in talks with SAF producers about offtakes and that it is "important that we test the supply chain," says Morgan.
The carrier is calling for investment and support for the development of zero-emissions aircraft, with hydrogen as the key fuel opportunity because it is a proven technology compared to that of batteries, says Lundgren. "True zero emissions aircraft are way more exciting than SAFs," he says.
EasyJet is convinced that zero-emissions aircraft are essential because "we believe burning carbon in any form will be unacceptable in the future," says Morgan.
There are significant challenges and questions with transitioning from a conventionally powered aircraft fleet to one with zero-emissions aircraft, and for a period operating with both types and the complexities that means, Lundgren told the summit. For instance, it could be that zero-emissions aircraft are introduced base-by-base or on a route-by-route basis, but these are questions far down the line.
With a zero-emissions aircraft unlikely to be in service any time before 2035, EasyJet's growth in this decade and beyond will come from adding further current generation narrowbodies. "I think it's more likely there will be more orders for traditional technologies," says Lundgren, before its first order for zero-emissions aircraft.
Lundgren used the Summit platform to urge industry and government to work closely together to deliver on the zero-emission technology needed to transform the industry over the coming decade and beyond.
"This is an exciting time for the industry where true zero-emission flight is within reach," explains Lundgren. "Hydrogen and electric powered aircraft are already flying, with companies like Airbus committed to scaling the technology for commercial flights and aiming for entry into service in the 2030s. So, we all need to play our role to ensure that the infrastructure is ready for these exciting new aircraft."
"But the industry can't do it alone," says Lundgren. "We need governments to help the industry meet ambitious emissions reduction goals by championing financial and regulatory support for green technologies and investments in zero-emission aircraft."