Pent-up demand for air travel is "enormous" but the aviation industry faces a "major operational challenge" this summer as rising passenger numbers coincide with staff shortages at airports and other stakeholders, Lufthansa Group chief executive Carsten Spohr has warned.
Speaking to analysts on a 5 May first-quarter earnings call, Spohr said that demand was rising sharply and bookings last week had exceeded 2019 levels for the first time. However, partners including airports and ground handling providers are "struggling with significant staff shortages" which look set to run into the busy summer travel period.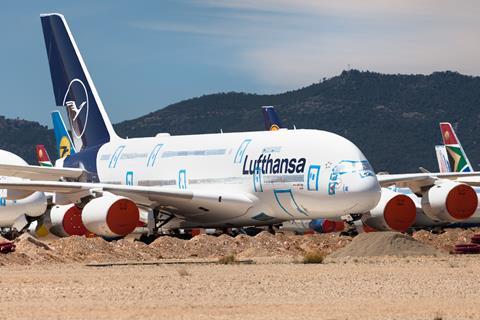 "We are looking for solutions but I'm sure we are not going to find all the solutions by the summer," says Spohr.
Despite these operational challenges, Spohr says the German airline group is "looking ahead with confidence", and "it is now time to put this [Covid-19] crisis behind us".
Lufthansa Group expects its airlines to operate about 75% of pre-pandemic capacity this year, although this is "subject to the development of the Ukraine war". Capacity growth will not be affected by aircraft delivery delays from Boeing, says Spohr, noting that "we haven't pushed ourselves to our operational limits" and the group still has "14 [Airbus] A380s sitting in Spain".
The A380s were placed in storage early in the pandemic and Lufthansa had signalled that the type would not return to service. However, Boeing last month announced that it was delaying first delivery of its 777-9 – for which Lufthansa has 20 firm orders – by up to two years. Spohr's mention of the 14 parked A380s suggests the airline's stance on the type could be changing.
Bookings for June and July are currently at over 80% of pre-crisis levels, and Lufthansa expects to carry "more customers on our airplanes than ever" over the coming months, he says. Premium demand is also returning, particularly in the USA where Lufthansa has seen stronger premium bookings than it has for economy-class seats.
While the first quarter got off to a weak start as the Omicron variant spread throughout Lufthansa's markets, demand came back rapidly as the weeks went on. Spohr notes that he has "rarely seen a quarter when things changed so quickly".
But a cloud of uncertainty hangs over the industry as the conflict between Russia and Ukraine continues to drive up the price of fuel. Lufthansa's fuel hedging is "largely protecting us", says the group's chief financial officer, Remco Steenbergen, with 63% of its exposure to crude oil hedged until the end of the year.
However, the price difference between crude oil and kerosene – known as the jet fuel crack – has increased significantly, adds Steenbergen, to a level that is "far too high" to be offset by other measures, meaning ticket prices "will have to rise".
Lufthansa Group is still looking at divesting a minority stake in its maintenance, repair and overhaul division, Lufthansa Technik, but Spohr says there is "not much more to say" on that at this time. He says the group still believes that "bringing somebody else on board…will help make Lufthansa Technik a more successful business", and a transaction could happen in 2023.