Even aerial firefighting aircraft are worth a make-over, but the revamped livery on the distinctive McDonnell-Douglas DC-10-30 of US operator 10 Tanker serves a practical purpose.
The company has shown off a more dynamic colour scheme on aircraft N612AX – a 34-year old airframe originally delivered to Thai Airways International – replacing the previous functional design with one more in common with those used by airlines.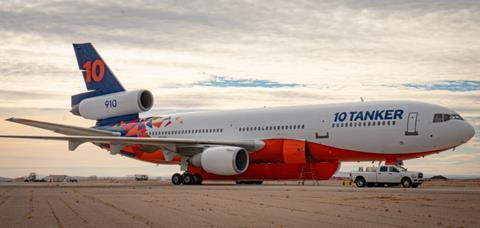 But the familiar basic orange tone remains a key part of the livery, and not simply for brand consistency, according to creator Kyle Courtright.
"As the [DC-10] makes its [firefighting] run and releases the retardant, the back of the aircraft – primarily the bottom and sides closer to the back – tend to get stained with a reddish-orange colour over time," he says.
The new livery shifts the emphasis of the orange scheme to the aft fuselage. "This would more effectively mask staining and avoid costly paint jobs down the line," says Courtright.
But the scheme also features an abstract canvas of triangles giving an impression of retardant being carried against the blue sky.
Three other DC-10s are part of the 10 Tanker fleet. These comprise the ex-Finnair N17085, the former Japan Air System N522AX and another ex-Thai airframe, N603AX.