Venezuelan carrier Conviasa is being subjected to tighter sanctions by the US government intended to prevent alleged presidential misuse of the airline.
The US treasury's Office of Foreign Assets Control has formally listed 40 aircraft in Conviasa's fleet as blocked Venezuelan government property.
This fleet includes an Airbus A340, seven Boeing 737s and 16 Embraer E-Jets, plus six ATR turboprops and a number of miscellaneous aircraft, among them an Airbus A319.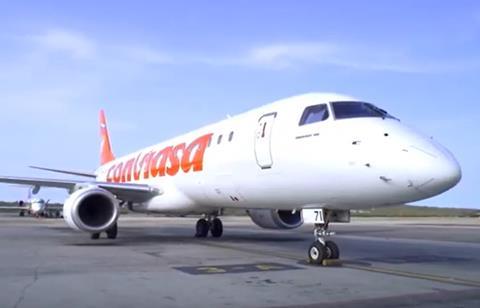 Adding the carrier to a specially-designated nationals list is intended to "ensure strengthened compliance" with sanctions, says the treasury secretary Steven Mnuchin.
He claims the "illegitimate" regime of Venezuelan president Nicolas Maduro uses Conviasa to shuttle officials to various destinations in Iran, Cuba and North Korea to "fuel support for its anti-democratic efforts".
Mnuchin adds that the US government will "not allow" Maduro and his "proxies" to misuse state-owned assets for destabilising activity.
"This action does not prevent the ability of the Venezuelan people to travel, as they can continue to travel on various other carriers not subject to [US sanctions]," the treasury states. "This action is intended to curtail the Maduro regime's misuse of the airline."