Given the rock-bottom relations between Iran and the USA, it is inevitable that the 8 January crash of Ukraine International Airlines flight PS752 near Tehran has become ensnared by the tension between the two.
The 737-800 came down shortly after take-off, with the loss of all 176 occupants, just hours after Iran had launched ballistic missile strikes against US targets in Iraq in retaliation for the killing of its military leader Qasem Solemeini.
While all indications are that those weapons were launched from sites closer to its Western border, many miles from the crash site, Iran's military around the capital was undoubtedly on high alert, fearing US retaliatory strikes.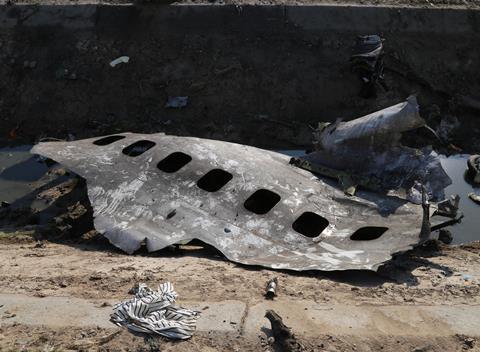 Although Iranian officials have hinted at technical issues with the twinjet, counterparts from Ukraine have not ruled out any cause, including its potential downing by an Iranian surface-to-air missile – as alleged by Canada, the UK and the USA the day after the loss.
Finding a metaphorical smoking gun is vital in such a political game of claim and counter-claim: in addition to the missile theory, other suggested causes within a 24h period included terrorism, a catastrophic engine explosion or a collision with another flying object, such as an unmanned air vehicle.
Such wild speculation into the factors behind any disaster is always unhelpful, but with the world's focus on the incident and seemingly credible evidence pointing towards a missile strike, the tragedy in Tehran illustrates more than ever a need for transparency.
Suggestions that Iran is refusing to release information from the narrowbody's flight-data and cockpit-voice recorders to anyone from the USA, including manufacturer Boeing, is troubling, and clearly not acceptable. Air accident investigations should be free from the taint of political interference and carried out in as open and transparent a manner as possible, instead of potentially crucial evidence being bulldozed out of sight within hours of a disaster happening.
While it may suit Iran politically to attempt to control the narrative, such a strategy tarnishes the memory of the crash victims – many of whom were its own citizens.
As long as Tehran persists with its obstructionist stance, doubts over the independence of the investigation and its conclusions will remain. That situation will benefit no-one – least of all, in the long run, Iran itself.