For Boeing, its rehabilitation efforts around the 737 Max have sometimes felt akin to a game of snakes and ladders.
Every time the airframer hauls itself up the board, barely a move later and it is sliding down again.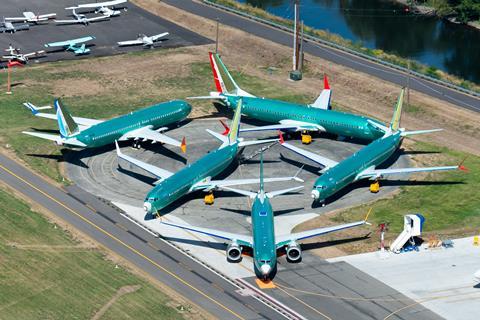 That scenario repeated itself at the end of June. Initially, Boeing appeared to have marched forward with the Federal Aviation Administration (FAA) having completed flight testing on the Max.
While that is not the only hurdle on the way to recertification, it is a significant one, and clearing it without complication was vital.
But then, as has been the case over the last 12 months and more, Boeing's next roll of the dice saw it land on yet another snake.
In this case, the reptile was no mere viper, but many feet of python, as a US government report hauled the company over the coals for its deliberate playing down of the controversial Maneuvering Characteristics Augmentation System (MCAS) during certification.
In essence, it accuses Boeing of keeping the FAA in the dark about the effects of MCAS when it approved the re-engined narrowbody. As a result, there was insufficient scrutiny of the system's operation, with ultimately tragic consequences.
In this context, a further 122 cancellations – 92 from Norwegian and 30 from lessor BOC Aviation – are painful but unsurprising.
Indeed, the Max's grounding, which is now in its 16th month, has given coronavirus-weakened customers a legitimate reason to walk away from jets they no longer need or can afford. Expect more to follow suit as the year progresses.
But the thing about snakes and ladders is that it is based entirely on chance. Boeing must move away from relying on luck if it is to successfully rescue the Max.