Management changes at US airframer are required as it seeks stability ahead of any recovery
Last week Boeing rebooted itself, very much in the literal sense. Possibly figuratively as well.
The company restarted commercial production in the Seattle region after temporarily closing its plants there on 25 March due to the coronavirus pandemic.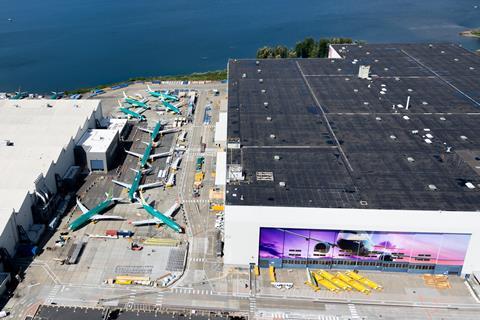 But with the sounds of final assembly once again ringing out, Boeing has also announced a series of management changes aimed at aligning the company with the real-world state of its industry.
Several times in the recent past it has been suggested that Boeing had turned a corner – that it might have finally set itself on a path to recovering from the series of calamities that have marred the pride of US aerospace.
Such suggestions followed sparks of optimistic news: a confidence-inspiring Max order from IAG in 2019. Acceptance in January that Max pilots should have simulator training. Also at the start of the year, a new chief executive.
But each spark of optimism has been rapidly extinguished by a deluge of fresh troubles, the latest example being the coronavirus pandemic.
Of course Covid-19 has hammered the entire industry – indeed, countless industries. But as with those infected by the disease, any underlying health conditions increase the health risk, and Boeing's pre-existing Max malaise has made the airframer particularly vulnerable.
But perhaps the decision to halt commercial aircraft production – which is, let's face it, essentially everything Boeing Commercial Airplanes exists for – and the restart last week provided the company with a shot in the arm.
Production of 747s, 767s, 777s and 787s in Washington state is now up and running, though 787 work at the company's site in North Charleston, South Carolina remains in limbo, as does Max production, albeit for separate reasons.
Boeing says it will use the continuing Max production pause to seek quality and process improvements.
While it is too early to gauge the impact of the management changes, Boeing says the overhaul will make it more efficient and streamlined, and better prepared to compete in a smaller post-coronavirus industry.
The overhaul includes creating a new company-wide "operations, finance and strategy" team led by chief financial officer Greg Smith.
Additionally, Boeing is revamping its commercial airplane management. Notably, Mark Jenks, head of the 737 programme, credited by some for helping fix the 787 programme, will now be vice-president of airplane programmes, overseeing all of Boeing's commercial models.
No doubt Boeing still faces the inescapable reality that airlines currently need no new aircraft. But analysts believe the industry will rebound in the coming years.
Perhaps changes now afoot at Boeing will help it rise again when the recovery takes hold.