Boeing's 787 is about to pass a significant milestone in its already remarkable programme history, with 26 October to bring the 10th anniversary of the Dreamliner's entry into revenue service.
With the passing of time it is perhaps hard to remember now the fervour with which every step of the revolutionary twinjet's development and production was followed after the programme launched in 2004 with a 50-aircraft order from All Nippon Airways (ANA).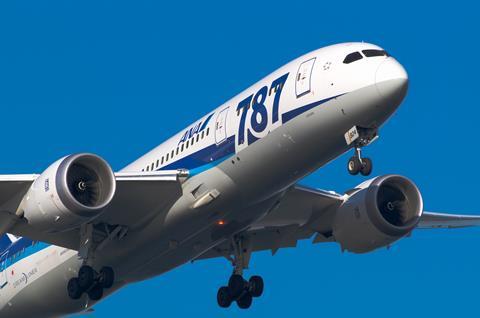 Every schedule slip and technical snag was seized upon by the world's media, which sensed the importance of Seattle's latest and greatest product.
Beyond its cutting-edge adoption of composite materials and reliance on a global supply chain, the Dreamliner offered something new for passengers, with a more pleasant onboard experience thanks to a cabin pressure altitude capable of reducing fatigue and a wider view of the world from larger windows.
Its performance has been closely scrutinised since that first operational flight by ANA, and teething problems such as the onboard lithium-ion battery fire which affected a Japan Airlines jet in 2013 grabbed many headlines.
But over the years, the broader level of interest in the Dreamliner has waned, as many travellers have been able to experience the type first-hand and other stories – such as the troubles affecting its 737 Max stablemate – have come to dominate.
Boeing has now delivered more than 1,000 787s across a three-model family: a remarkable achievement for a widebody offering which is capable of opening up new long-range point-to-point routes or, in the case of Japan, even serving domestic pairings.
The company has an expected firm backlog of another 421 Dreamliners, representing many more years of production and assembly in South Charleston, North Carolina.
But even before the Covid-19 pandemic, Boeing was facing sluggish demand for widebody products, prompting it to slash monthly output. More recently, quality control issues affecting aircraft finishing have twice halted production, and while back under way, build work now takes place at an unspecified rate of below five per month: down from a programme high of 14.
Due in no small part to the pandemic's effect, just 53 examples were handed over last year – down from a record 158 in 2019 – and in the first seven months of this year only 14 were delivered.
In an unwelcome parallel with the 737 Max programme during the single-aisle's grounding period, 787 delivery delays stretching beyond the 12-month mark could open the way for customers pressured by the global health crisis and weakened long-haul travel demand to cancel orders without penalty, eating into the production backlog.
Is this a temporary crisis for the Dreamliner, and can Boeing revive its stunning past performance with the type once the industry can break free of the pandemic?
Naturally, the airframer believes that its 787 remains "the plane of the future", but some are calling for it to revitalise the product, perhaps by developing a new variant optimised for the regional travel sector.
Viewed against the market capitalisation-bruising impact of the 737 Max's difficulties, it is unlikely that the Dreamliner will again cause anything like the headaches of its heavily-scrutinised service introduction.
For Boeing, the priority now must be to resolve any lingering production and quality control issues and get back to delivering a transformational experience for airlines and passengers alike.