Apparent accord between three European nations on their future fighter project is positive, but a lack of detail on the agreement's practicalities leaves many unanswered questions
For a while it had seemed doubtful that an accord might ever be reached between France, Germany and Spain to allow their Future Combat Air System (FCAS) to progress to the next stage of development.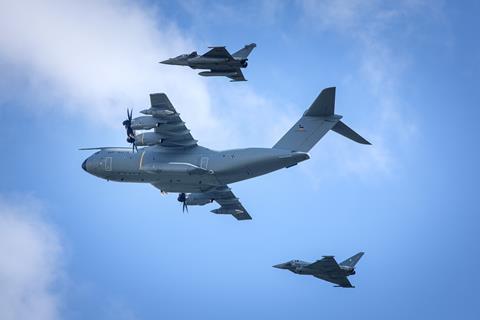 There had seemed too many obstacles to progress, notably the thorny issues of workshare and intellectual property.
Dassault Aviation was particularly outspoken about the potential dilution of its role in the process.
When originally conceived, FCAS and the New Generation Fighter (NGF) at its heart was a marriage of equals; France and Germany and their various industrial champions would divide the work on an even basis.
But the formal inclusion of Spain in late 2020 upset the balance ofpower. While the overall FCAS project is now a tri-national effort, on the NGF, airframe activities continue to be divided between Dassault and Airbus Defence & Space, with the latter representing both Berlin and Madrid.
In other words, although the French manufacturer remains the NGF's prime contractor, it has seen its share of the project fall from 50% to 33%, while its rival's has risen to 66%.
Although the defence ministries of the three nations say that their differences are resolved, it is so far unclear how that translates to the industrial level.
Further hurdles remain, of course: the Bundestag still needs to give its assent to this next step; elections in Germany this year and France in 2022 have the potential to sabotage the process; and possible future discord between the various parties is virtually a given (Berlin's continued misgivings about defence export sales look likely to cause friction, and a French requirement for a carrier-borne NGF may also prove challenging).
Success for the FCAS programme is by no means guaranteed. But the mantra of European sovereignty – from two of the EU's staunchest advocates – that underpins the whole initiative is likely to overcome this rocky beginning.
Meanwhile, on the other side of the English Channel, the UK-led Tempest future fighter programme continues to go quietly about its business.
In contrast with its FCAS rival, the Tempest effort, which also includes Italy and Sweden, has so far has been notable for a lack of public discord.
It is hard to pinpoint the reason for that apparent harmony – and it may well not last for the duration of the programme – but perhaps it is simply that all the parties are currently in alignment.
To succeed, multinational procurements require a tight formation and common goals, rather than simply common interests. A desire for European sovereignty is an admirable ambition, but smacks strongly of politics trumping all other concerns.
Principles are fine, but unless tempered by practical considerations they can threaten the underlying product.
In both cases, the partner nations would do well to remember what they are fighting for: is it to build the best aircraft, or to satisfy an abstract political aim?