On the face of it, taking almost 60 serviceable – and relatively young – helicopters and stripping them for parts to feed the rest of a global fleet is not a great look. Yet this is exactly what European manufacturer NH Industries (NHI) is proposing.
To put that figure into some sort of context, it is, give or take, a little over 10% of the in-service NH90 fleet. Again, this is not a great look, but given the programme's background, it is perhaps an understandable step.
Even before Canberra's 29 September announcement that its locally-named MRH90s would not be returned to flight, the Taipan's days were already numbered in Australian service: its retirement was scheduled for December 2024.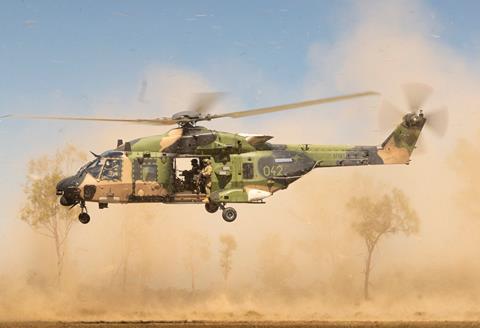 The decision to axe the MRH90 fleet and replace it with Sikorsky UH-60M Black Hawks was effectively signed and sealed a year ago; in essence all Australia has done is to speed the Taipan's withdrawal, forcing it into early-early retirement, if you like.
While the move has been shaped by the pace of an ongoing investigation into a fatal crash, NHI maintains it has seen nothing to suggest a wider safety issue with the helicopter.
One might suspect that with a new fleet of Black Hawks to pay for, Canberra is grateful for any saving in sustainment costs, even at the expense of a capability gap. In essence, its choice is a highly pragmatic one.
But the same could be said of NHI's plans to take those 45 aircraft – and possibly the 14 no longer wanted by Norway – and turn them into parts donors.
MAINTENANCE WOES
Problems with maintenance – both of time and cost – have long bedeviled the multi-national NH90 programme, so an immediately accessible treasure trove of badly-needed parts is a godsend, no matter its circumstances.
The move comes as part of a wider push by NHI and its partner companies – Airbus, Leonardo and GKN/Fokker – to tackle the recurrent sustainment issues with the type.
Operators, not unreasonably, might ask why this was not fixed from the very start. While they have a point, they must also take some of the blame: the proliferation of variants was driven by customer demand, after all, causing complexity to be baked into the programme.
In the meantime, NATO and Europe are both contemplating the development of a next-generation rotorcraft for the coming decades, with a familiar cast of countries and their industrial champions very much at the forefront of that effort.
They say that those who do not learn from history are doomed to repeat it. If Europe is to press ahead with the initiative – and there are sound reasons around sovereignty and industrial capability to do so – it must heed the lessons from the NH90's genesis.