Dennis Muilenburg took the Boeing helm in the summer of 2015 during a relatively benign period for the manufacturer. But as he departs, there is a very different atmosphere at the firm's Chicago headquarters, where the ongoing 737 Max crisis still has many more questions than answers.
Whether his sudden – albeit not unexpected – resignation just as 2019 closed will be sufficient to draw a line under the Max saga remains to be seen. But it is clear that Muilenburg's – likely temporary – successor, David Calhoun, must corral the Boeing team to quickly make progress on the grounded jet.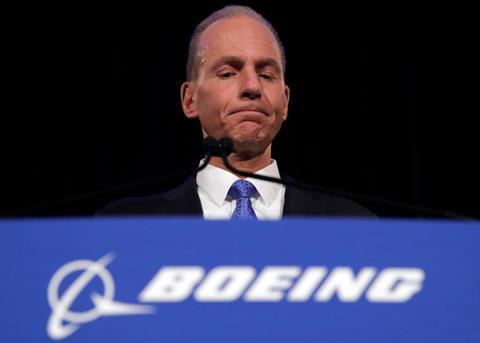 Muilenburg's predecessor Jim McNerney's mission when he arrived in 2005 was to quickly steady the ship and end a series of leadership crises. These had blown up shortly after the merger with McDonnell Douglas, when first Phil Condit and then Harry Stonecipher were forced out in corporate and ethical scandals.
Muilenburg was hand-picked by McNerney after an already stellar Boeing career and his promotion to president and chief operating officer in December 2013 placed Muilenburg in the perfect parking orbit at the Chicago headquarters to ultimately succeed him.
McNerney had broadly turned Boeing into a success story. The 787 crisis had been resolved and the Max was moving ahead strongly as a successor to the best-selling 737. On the defence side, sales were sluggish, but nonetheless Muilenburg was handed a business that did not require too much fixing.
A key early decision was the unprecedented move to appoint an outsider to replace the retiring Boeing lifer Ray Conner at Commercial Airplanes, when Muilenburg chose former GE Aviation Services chief executive Kevin McAllister in late 2016.
At the same time, Muilenburg made a big statement of intent, calling for the new Boeing Global Services to become a $50 billion business within a decade, holding one-fifth of the market. The largest player, GE Aviation, had only half that share, and Boeing was effectively declaring war on key supply partners and customers such as Lufthansa.
Muilenburg's departure should stop the seemingly endless headlines criticising the embattled executive's handling of the Max crisis. It should also send the right signals to those who suspect the company has been in a state of denial over its predicament.
But the most pressing challenge is delivering concrete progress towards returning the Max to the air. Then there is the similarly daunting task of finding a willing and capable successor to lead Boeing out of the biggest crisis since its birth.