By the end of this year or early next, we should get a look at the future of deep-space travel. It will not carry a crew, but NASA's Artemis I around-the-Moon-and-back flight will demonstrate the capsule, life-support system and mighty Space Launch System rocket being designed and tested to carry astronauts back to where they left off in 1972 with the final Apollo mission.
The plan is then – on the orders of President Donald Trump – to press on and land American boots by 2024. Artemis II will carry a human crew around the Moon, and three or more Artemis support missions will deliver and assemble the Gateway space station, which will sit most of the way to the Moon and serve as jumping-off point for surface sorties.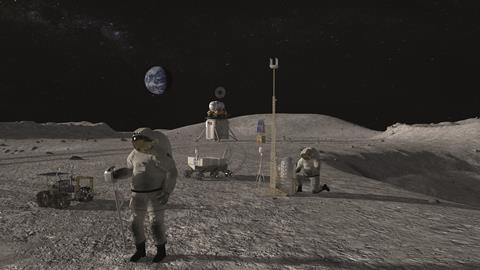 Before we get too excited, we have been here before. President George W Bush aimed for a 2020 return – or maybe 2019 to mark the 50th anniversary of Apollo 11 – but his scheme was so far behind schedule and over budget that Barack Obama, taking office just as the financial crisis was really getting going, axed it.
Trump's Artemis vision has delivered a NASA budget explosion, to nearly $22 billion this year, but even a lot more money may not overcome the fact that critical components like Gateway and a lander can at best be said to be in development.
If Trump is not re-elected, a new president may be minded to spend billions restoring crumbling American infrastructure, educating children and fighting climate change rather than chasing moondust. A second-term Trump may pivot to do the same, find himself grappling with recession or war, or even deciding that a behind-schedule programme should be given more time – and left in a successor's in-tray.