Russian President Vladimir Putin once expressed his dissatisfaction with Aeroflot Group's fleet choices while grilling then-chief Vitaly Saveliev, who was forced to explain why the flag carrier was overwhelmingly using Western rather than domestically-built aircraft.
"I want to understand how many Russian aircraft Aeroflot is going to buy," Putin told him during the face-to-face meeting in 2010.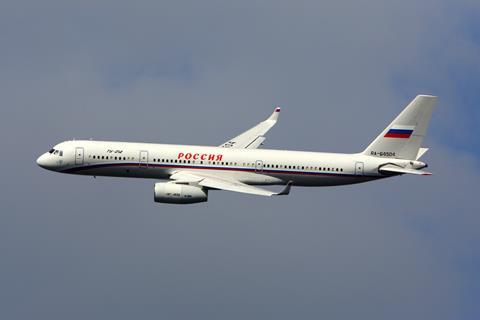 Saveliev's mentioning that Aeroflot was still using a few Ilyushin Il-96s, while Rossiya was acquiring half-a-dozen Antonov An-148s and domestic consolidation would bring other Russian aircraft into the group fleet, did little to pacify Putin, who was prime minister at the time.
"It's not enough," he told Saveliev. "You want to dominate the domestic market but don't want to buy domestic equipment. That won't do."
Putin's opinion appeared – not surprisingly – to have its intended effect. Aeroflot subsequently signalled that the Irkut MC-21, more Superjet 100s, and other Russian types would make up a substantial proportion of the group's fleet.
But Aeroflot Group's operational restructuring, outlined two years ago, suggested the company had not fully embraced the domestic industry. Under the plan, Russian-built aircraft – including Aeroflot's Superjets – would be shunted to Rossiya, for inter-regional service, while Aeroflot, the more high-profile carrier, would fly Airbus and Boeing models.
With Ukraine-related sanctions imposed on the Russian air transport sector, all assumptions on which the fleet strategy was founded have been overturned, and government-controlled Aeroflot Group is dutifully fulfilling Putin's ambitions for a Russian fleet restoration by committing to almost 340 domestically-built aircraft – but decide among yourselves whether this is genuine affection or posturing in the face of having few alternatives. Tupolev Tu-214s have been available for decades, after all.
There is also reasonable scepticism over the feasibility of producing aircraft in such numbers. Fifty single-aisle deliveries per year might seem a cakewalk given that this amounts to a month's work for either Airbus or Boeing, but it nevertheless presents a ramp-up challenge for the Russian aircraft industry, especially since the domestically-powered variant of the MC-21 is yet to be certified.
Rostec chief Sergei Chemezov has claimed Airbus and Boeing are unlikely to deliver aircraft to Russia again, although such rhetoric from a close chum of Putin – one invested heavily in the success of the aircraft industry – can probably be taken with a shot of vodka.
Given that some of the largest Russian carriers – such as S7 Airlines and Ural Airlines – exclusively operate Western types, the most interesting scenario is whether Aeroflot's apparent new-found enthusiasm for Russian aircraft becomes contagious if the condition of Western fleets starts deteriorating in the short term.
As for Saveliev, who rose from Soviet hydroelectric engineer to senior banking and government figure, before taking over as the head of Aeroflot, any doubts over his loyalty to the Russian aircraft industry do not seem to have harmed his career. After he left the flag carrier, Putin appointed him minister of transport.