From Cincinnati to Sheffield, Seville to Seoul, owners of thousands of manufacturing firms in the aerospace supply chain are wondering if they will still have a business at the end of the year.
As Covid-19 lockdowns and other restrictions begin to ease, and governments around the world try to nudge economies back to life, the problems for the multitude of small- and medium-sized enterprises (SMEs) that are the bedrock of the commercial aircraft industry are only beginning.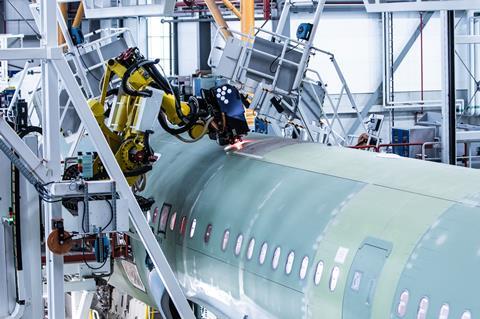 Deep cleaning of work stations, social distancing in the canteen, and marker tape on the factory floor may help sort out issues on the supply side, by allowing manufacturers to get back to making things. The difficulty is demand – who is going to want their products?
German trade association BDLI has warned that unless Airbus can limp along with production at a level at least half that originally slated for 2020, an entire domestic manufacturing infrastructure that has flourished alongside the European airframer over more than 40 years could collapse.
The crisis is little different in Airbus's other home nations, and dozens of countries that form part of a complex global supply chain for both big aircraft manufacturers.
SMEs that were being urged to borrow to invest in automation necessary to meet ambitious ramp-up schedules, and stock up on scarce raw materials, have seen their end market vanish in a matter of weeks as a result of stay-at-home orders and travel bans.
It is difficult to see demand returning any time soon, even if flying becomes theoretically possible – and there are big questions over whether combined annual Airbus and Boeing output this year and next can attain that 50% of 2019 production BDLI says is a minimum to keep its members, and others, ticking over.
GE Aviation, Meggitt, Rolls-Royce and Spirit AeroSystems are just some of the first-tier suppliers to have announced major cuts to their workforces. Further down the chain, the job losses may not make the headlines, but the effect is arguably more threatening to business viability, as small companies, often heavily geared and dependent on one customer, have fewer places to hide.
Government-backed furlough schemes and low-interest loans together with customer payments that are still coming in for pre-crisis deliveries may help SMEs through a cash squeeze in the short term. Beyond that, their survival depends ultimately on the resilience of a microscopic parasite and when the world is ready to start flying again.