It was the best of times, it was the worst of times, at least as far as feeling safe on board an aircraft was concerned.
Last year's accident statistics, on the surface, reflected the remarkable record of commercial air transport, particularly in North America and Europe, even if a drip-drip feed of mishaps from certain parts of the world continues to frustrate those striving for a zero-fatality rate.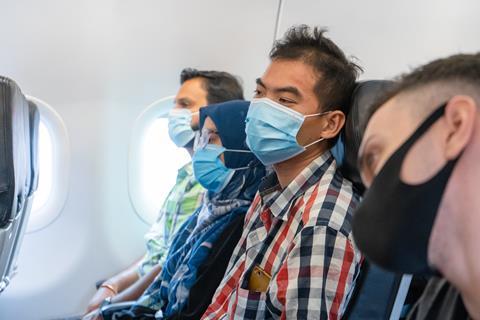 The effects of the pandemic have largely been peripheral, at least so far, although concerns it is having a detrimental impact on operations, through pilot skill erosion or technical issues on aircraft re-animated from storage, are not misplaced.
Operators and regulators will remain under pressure, as air traffic rises during the recovery, to keep the crisis from creeping into the realms of probable cause.
But arguably the more immediate pandemic-related threat to passengers' safety comes neither from the airframe nor the cockpit but from within the cabin.
SOARING NUMBERS
The number of US airline fatalities over the past five years can be counted on one hand, but figures from the Federal Aviation Administration (FAA) show that nearly 6,000 unruly or violent passenger incidents were recorded in 2021.
More than 1,000 investigations were initiated – far above the typical annual figure of 100-200 – and the FAA has imposed more than $1 million in fines for acts of intimidation and aggression towards the cabin crew and other passengers, as well as disturbance and damage. The fact that no-one was fatally injured seems an absurdly low-bar consolation.
The alarming surge, predictably, results from hostile political polarisation over the best strategy to combat the pandemic. Close to 4,300 of the unruly-passenger incidents last year were linked directly to face masks.
Poor behaviour among travellers, fuelled by alcohol, has long been an unpleasant aspect of air travel, but the risk of injury has never been higher. The FAA's introducing a zero-tolerance policy last year, while commendable, naturally raises the question as to why tolerance levels were anything but.
Twenty years ago, in the aftermath of 9/11, disrupting a flight would have risked intervention from an armed air marshal. But the FAA, unable to prosecute criminals, believes unruly passengers often face no effective punishment, even if law enforcement is requested to meet arriving aircraft.
DANGEROUS BEHAVIOUR
"When this occurs, we miss a key opportunity to hold unruly passengers accountable for their unacceptable and dangerous behaviour," says FAA administrator Steve Dickson.
The situation is not confined to the USA. In the section on unruly passengers in its latest five-year aviation safety plan, the European Union Aviation Safety Agency refers to face masks as a potential point of conflict with passengers. It also notes a "lack of adequate passenger pre-flight briefing".
Airlines spend several minutes before each flight teaching passengers basic safety: how to unfasten a seatbelt, open an exit and put on a life-jacket. But virtually none explaining in detail the financial and legal consequences of drinking too much, swearing and punching a flight attendant.
Under the FAA's latest initiative, airports are introducing briefing videos and seeking concessionaires' help – in poacher-turned-gamekeeper fashion – to limit inebriation. But it all seems rather optimistic. This is a safety problem which pre-dates the pandemic and, while it might recede with an eventual lifting of face-mask requirements, it is a long way from being solved.