Boeing's defence unit is celebrating a modern-day dogfighting masterstroke, after securing its first US Air Force (USAF) orders for the venerable F-15 in more than two decades.
While the launch contract is modest, valued at almost $1.2 billion for eight F-15EX fighters, the air force's urgent need to replace aged C/D-model interceptors could expand to 144 aircraft worth $23 billion.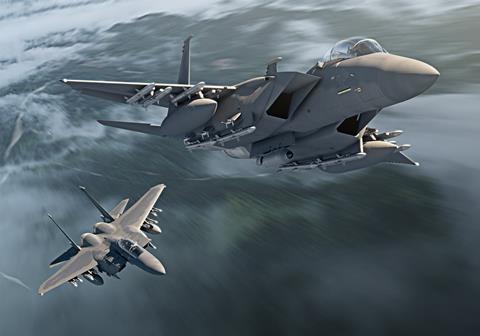 Value for money was key to this victory, with the twin-engined type's per-hour running costs roughly one third cheaper than Lockheed Martin's stealthy F-35. Plus, Boeing claims that squadron personnel transitioning from the legacy C/D fleet to the EX will be able to do so "in a matter of days".
Speed of delivery is also critical. With the new USAF model a further development of the Advanced F-15 delivered to Saudi Arabia and in production for Qatar, the first two will be transferred for testing early next year.
The programme will also help Boeing in its pursuit of the USAF's Digital Century Series fighter requirement, which will seek rapid technology evolution. Although the F-15's profile dates back to the 1970s, the EX exists in a 3D-modelled, precision assembly form, with an open mission systems architecture and fly-by-wire controls.
Boeing says this will enable it to keep ahead of emerging threats, and act as a "pathfinder" for Digital Century Series products.
Two other design features stand out. Due to the programme's rapid nature, the EX will retain the Advanced F-15's two-seat configuration, even though the USAF intends to operate it with a pilot only. That leaves room to accommodate a mission manager to oversee future loyal wingman vehicles.
More likely though, with the fighter's centreline station capable of hefting a 6.7m (22ft)-long, 3,180kg (7,000lb) weapon, the F-15EX could become the USAF's gunslinger of choice when deploying future hypersonic missiles.