If the Helicopter Association International (HAI), the organiser of Heli-Expo – the world's largest rotorcraft trade event – was hoping for a quiet few days focussed on the industry's positive aspects then they will have been sorely disappointed.
This year's event was held in Anaheim, California, and a helicopter crash causing multiple fatalities in nearby Santa Monica on the eve of the show was always going to make headlines. That the accident killed Kobe Bryant, one of Los Angeles' most revered sporting icons, along with his daughter and seven other people, has put the spotlight on the industry's patchy safety record.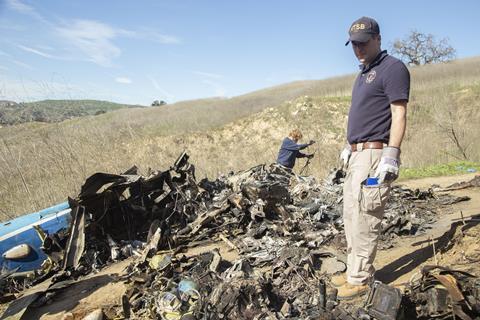 Helicopter accidents are sadly not uncommon: preliminary data from consultancy Ascend suggests that in 2019 there were 46 fatal crashes of civil Western-built turbine-powered helicopters, killing a total of 128 people.
That's an accident rate near one per week.
Sure, helicopters are sometimes operated in difficult environments – emergency medical services, fire-fighting or parapublic missions – but the Calabasas crash was a VIP transport flight, effectively a taxi service.
It bears certain similarities to a crash in Hawaii in late December 2019, in which seven people were killed after a sight-seeing flight hit high terrain. In both cases, the sorties took place in poor visibility.
The industry is increasingly looking to new technologies to overcome human failings, not least to make a proliferation of urban air taxis acceptable to those living in big cities. Fully autonomous operation appears to be the desired end state for advocates of urban air mobility, although whether that is driven by safety or profit is harder to ascertain.
Ironically, until the industry can demonstrate safety with manned helicopters – albeit with a basket of autonomous technologies – it is unlikely to win acceptance for removing the pilot from the equation.
At a press conference on the Bryant tragedy, National Transportation Safety Board board member Jennifer Homendy identified two recommendations made in the wake of previous accidents – the mandatory installation of terrain-warning systems and cockpit-voice and flight-data recorders – that US regulators had chosen to ignore.
These are not high-tech, cutting-edge systems, but simple technologies widely adopted in the fixed-wing market. Yes, there would be a cost to the industry if a widespread retrofit was insisted upon, but how much are individual lives worth?
As the industry has discovered, not all publicity is good publicity.