True patience involves bearing what is unbearable, according to a Japanese proverb.
By that measure, it is fair to say that Mitsubishi Heavy Industries (MHI), the parent of Mitsubishi Aircraft, has displayed that quality in spades.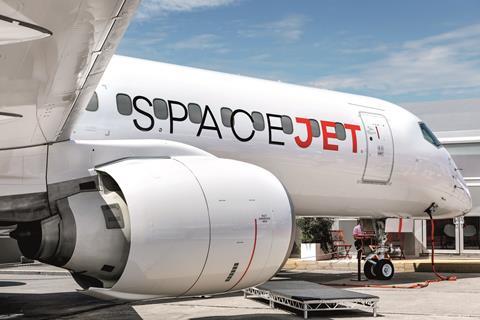 Some seven years late - and counting - the ambitious SpaceJet programme would have tried the resolve of lesser companies, but are recent events a sign that even MHI's reservoir of patience is beginning to run dry?
The SpaceJet M90 - rechristened at last year's Paris air show - has been crawling towards certification and service entry as Mitsubishi Aircraft attempts to resolve the problems that have plagued the programme since its MRJ90 days.
Sales have been underwhelming too: early confidence that US carriers would be able to renegotiate "scope clause" limits in their pilot contracts with stubborn unions, allowing the M90 to serve regional routes, has evaporated.
Indeed, 2019's announcment that work had started on a new 76-seat variant called the SpaceJet M100 was a tacit acknowledgement that scope clauses were here to stay.
However, barely a year later and MHI has shelved development of that variant. It has also slashed the budget for the M90 and closed its US flight-test centre, all driven by the new economic reality ushered in by the coronavirus crisis.
Collapsing passenger demand has resulted in cash-strapped airlines cutting or deferring orders. That has not directly hurt the SpaceJet, but production cuts by other manufacturers - for example Boeing's 787 - will drive down MHI's revenues.
But ballooning costs on the SpaceJet programme - $1.3 billion in the last financial year alone - have made it an obvious target for cost savings.
Nonetheless, aspects of the market are arguably in the SpaceJet's favour.
Regional jet rival Embraer has lost a promised boost from a now aborted merger with Boeing and still does not possess a scope-clause compliant new-generation jet (albeit the E175 continues to sell).
The collapse in demand for new airliners gives MHI breathing space to get the M90 certificated and in service. No airline wants an Embraer regional jet monopoly, and the weaker position of US pilots could finally see scope clauses change or disappear. Demand for air travel will eventually return.
SpaceJet is seen as a newcomer, but Mitsubishi has an epic history in aviation dating back to before the Second World War. It knows the value of true patience.