Boeing had been hoping that its problems would be, if not be ended, then at least on the way to being solved as 2019 draws to a close, but that no longer appears the case.
The latest indications from the US Federal Aviation Administration (FAA) are that recertification of the 737 Max has now slipped into 2020.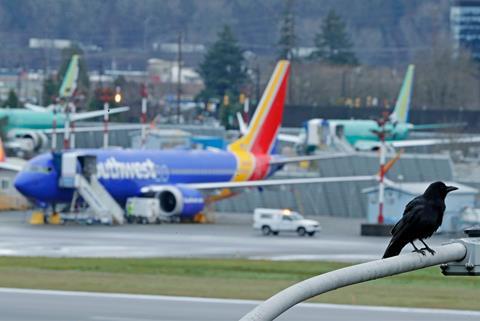 Boeing, of course, had hoped that the vital milestone would have been reached by December at the latest and had continued to hold to that timeline. But it seems that pressure on the FAA from lawmakers and the sheer logistical complexity of the recertification effort – not least the necessity of a multi-national approach – has shoved that deadline to the right.
While it may be awkward for both the manufacturer and regulator, the enhanced legislative scrutiny is crucial.
As documents released this week have revealed, neither organisation covered itself in glory in the wake of the first Max crash in October 2018. Indeed, there are serious questions for the FAA to answer if its own internal safety analysis suggested the Max would crash again and yet it seemingly did little to prevent that happening.
While few would disagree that the 737 Max will eventually return, when that will take place is increasingly difficult to predict.
And with each passing day, week and month, Boeing's problems continue to mount.
Indeed, the clearest illustration of that is the mountain of jets piling up wherever Boeing can find space to park them.
After all, 737 Max jets are still rolling out at a rate of 42 per month – or roughly 1.4 aircraft each day – tying up capital and generating zero income while they cannot be delivered.
Net order and delivery figures make painful reading too: Airbus had achieved respective figures of 718 and 725 by the end of November, but Boeing's numbers are just 56 and 345.
Airlines are patient and alternatives are limited, but operators with grounded aircraft – or those that planned to have the Max in their fleet by now – will be due ever-increasing sums from Boeing in compensation (storage rates alone are around $7,000 per month for each aircraft).
All of this means the pressure on the airframer – and chief executive Dennis Muilenburg – continues to ratchet up.
It is impossible to over-emphasise how important 2020 will be for Boeing. It can afford no further slip-ups on the Max if its finances or reputation are not to be tarnished further.
Boeing will recover, but 2019 is a year that it will want to forget.