Tim Clark has delivered his view on the coronavirus pandemic with his usual succinct style: "A $15 trillion torpedo has hit the global economy." And the fundamentals for the industry's recovery are largely outside its control.
Tim Clark delivered his view on the impact of the coronavirus pandemic with his usual succinct style: "A $15 trillion torpedo," he called it.
The collapse in passenger demand has hit Emirates badly – it suspended passenger operations in late March and parked its entire Airbus A380 fleet. However, half its Boeing 777 passenger fleet continue to fly in an all-cargo role.
Clark has described his job running Emirates as like playing three-dimensional chess. And many crises have come and gone through his five decades in the industry, but he says this one is greater than the sum of all the others' parts.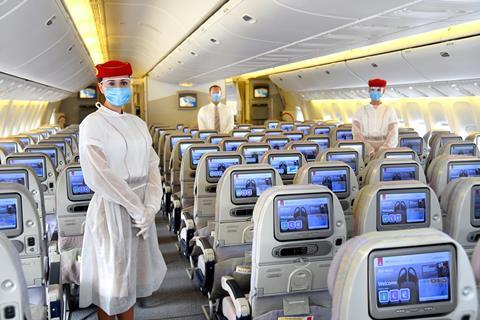 He is the first to admit that no-one has any real idea when the recovery will start and how quickly things will return to normal. Clark also concedes that any hopes of an early improvement were dashed in May, prompting the airline to now examine what its future size and shape should be – with inevitable consequences for staff and fleet.
The enduring success of the Dubai-based global network carrier's model could well be its downfall in the current crisis. The airline capitalised on its location to move people from anywhere to anywhere across the world with just one stop. That creates an incredibly rich mix among its origin and destination traffic. While this is certainly not unique to Emirates, the global hub-and-spoke business model will bring specific challenges as the industry works out how it will adapt to the "new normal" created by the pandemic.
Speaking a decade ago about how Emirates negotiated the 2008-2009 global economic crisis, Clark said that with such little certainty and data, it was "like navigating a nuclear submarine in the dark without any aids". The same is true today, with airline planners – which Clark is at his core – having "never been there before", he says.
And a bit like any maritime vessel, Emirates and its peers are at the mercy of the prevailing conditions. But when experienced airline leaders like Clark and Ryanair's Michael O'Leary state that social distancing (under the current arrangements) is a non-starter for the airline industry – people must listen.
Clark says that with so little data to go on, he's following his instinct. And if his instinct is correct – which is that a solid recovery will need the development of a vaccine (about which he optimistic) – then the aviation industry's resurrection is hanging by a very narrow thread indeed.
The global airline business undoubtedly accelerated the spread of the coronavirus. But the industry's revival is fundamental to resurrecting global trade before the Covid-19 victims are outnumbered by the economic ones.
Meanwhile, Clark is due to sail into the sunset next month, beginning a well-earned retirement. But one suspects the master tactician won't want to go far until Covid-19 is positioned squarely in checkmate.