Before Covid-19, cargo was a welcome but unglamorous component of most airline business models. Tucked away in the belly of passenger jets, next to the baggage, and invisible to travelling public and crew alike, freight was often taken for granted.
All that changed in March, when passenger flights came to a juddering halt and – like fishing boats and pleasure steamers drafted as Dunkirk rescue ships – airliners were rushed into service as improvised freighters, their economy cabins crammed with urgently needed personal protective equipment and medical goods.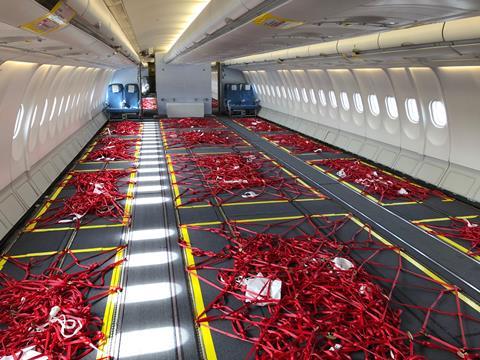 Now with the virus in retreat and economies and air travel slowly reopening, how could the long and difficult recovery from this crisis affect the way cargo is moved around the world?
The desperate shortages of PPE are abating and a global recession will dampen demand for air freight generally. But caution among the public to start flying again and airlines to relaunch services could mean a continuing imbalance between belly capacity and the volume of goods requiring transport.
This could in turn spark demand for flexible overhaul packages that allow airlines to temporarily strip out seating and interior fixtures from passenger jets, or operate them as hybrid aircraft, with passengers and freight sharing the same cabin. Longer-term, carriers could swap older types for passenger-to-freight conversions.
Even more bizarrely, a combination of cheap fuel and lack of belly capacity could rip up the obituaries of the Airbus A380 and Boeing 747-400, as unwanted examples are given an extended lease of life as super freighters.
As with so much else, Covid-19 could shake-up the sedate world of air freight for some time.