Buying a new fleet of fighters is a huge decision for any nation: not only due to the high capital cost of making such an acquisition, but also because of the heavy responsibility of selecting the right type to defend its citizens for 30 years or more.
Visiting the Finnish air force's Pirkkala base in Tampere in late January, it was not only the near-zero temperature and falling snow that were refreshing. With a media open day staged for each of the five visiting contenders – in this case the Saab Gripen E (pictured) – Helsinki has adopted an impressively transparent approach during its HX Challenge. Its programme manager also writes regular blog posts about the process, which is heading towards a vendor decision during 2021 and initial capability being declared six years later.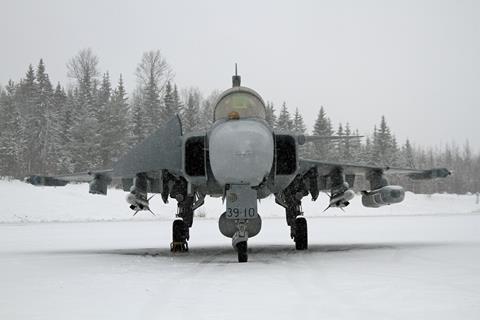 Of course, some things are best not widely publicised when it comes to air combat capability requirements, so the bidders are instructed not to provide specific details about the ongoing HX Challenge evaluations. Meanwhile, engaging in "trash talk" about the perceived weaknesses of their rivals is also actively discouraged.
Finland has some unique requirements which already make the battle between the Boeing F/A-18E/F Super Hornet, Dassault Rafale, Eurofighter Typhoon, Lockheed Martin F-35 and Gripen hugely intriguing. Add to the mix an – albeit comparatively modest – 30% offset requirement, and the potentially 60-unit deal is even more engaging.
With updated proposals just tabled and best and final offers to follow before year-end, programme director Colonel Juha-Pekka Keranen cautions: "Put in true numbers, because these will be tested."
Worth a maximum of €10 billion ($11 billion), this is a dogfight not to be missed.