If the stars align, the world could have the first all-new large turboprop passenger aircraft for four decades within five years.
The irony is that this is the proposition from Embraer – a stalwart of jet-powered regional aircraft that helped contribute to the near-extinction of the turboprop "race".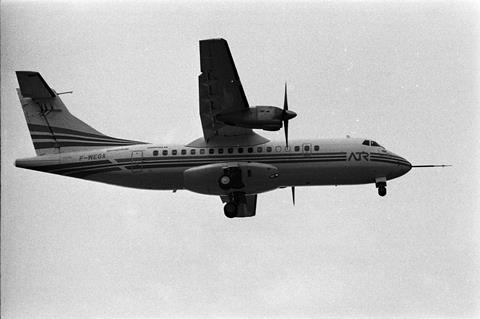 Embraer's case for a next-generation turboprop airliner is a strong one – pointing to the environmental and economic benefits, as well as the market disruption it could bring.
Today's market leader, ATR, and its large-turboprop competitor, the De Havilland Canada Dash 8 – along with smaller turboprops such as the Saab 340 and Embraer Brasilia – owned the regional sector for much of the late 20th century.
That all changed in the mid-1990s, when a modified Canadian business jet design with 50 seats crashed their party. Embraer was quick to identify the threat from the Bombardier CRJ, and created its own 50-seater, the ERJ. The two OEMs shipped 2,000 small regional jets between them from 1993 to 2005.
Their value proposition to regional operators was compelling: big jet-like passenger experience, faster sector times and competitive economics.
Turboprop manufacturers were caught in a perfect storm, as the regional jet generation arrived in tandem with a high-profile US turboprop accident – the infamous Roselawn tragedy in which 68 people died – combining to effectively render obsolete the propeller-driven airliner in North America.
By the early 2000s, turboprop production was at a trickle. Only ATR and, ironically, Bombardier, kept the faith. In 2003, just 29 aircraft were delivered globally while over 300 Bombardier and Embraer jets were shipped.
But the props weren't done. New technology like active noise control improved the passenger experience, while engine upgrades enhanced performance. Bombardier created an enlarged Dash 8 that could carry 70-80 passengers at jet-like speeds. And the rising fuel price from around 2005 hit small-jet economics hard.
So the large turboprop sector bounced back as the 50-seat jet era ended. Deliveries averaged a healthy 100 aircraft per year during the 2010s, with ATR the market leader.
Embraer – a major player in the market with its E-Jet series – believes the sector is ripe for disruption. It is confident it can create a headache for the current turboprop players without diluting the market for its jet portfolio. The question is: will Embraer's prospective new partner Boeing have the appetite to support such a venture? We won't have to wait too long to find out.