Boeing would surely have liked to celebrate the 25 January first flight of the 777X as a comprehensive and overwhelming victory for the company. A big win for the big twin, if you like.
The new widebody's maiden sortie passed off without a hitch – despite the best efforts of the Pacific Northwest's winter, which caused the event to be twice postponed.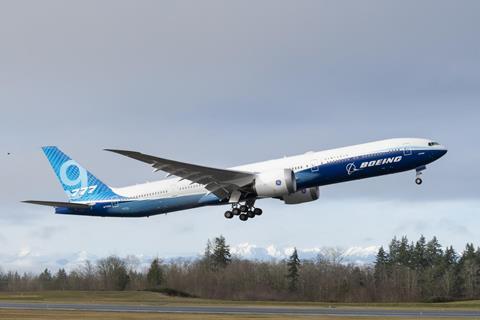 Boeing's pilots were full of praise for the aircraft, declaring that they could not wait to fly the jet again.
But unfortunately for Seattle, the 777X programme is not proceeding in isolation. Rather than celebration, the successful first flight will have been greeted by a sense of relief in that it did not produce more bad news.
That warm feeling will probably not have lasted long, either. Just four days after the maiden flight, the airframer released a set of annual results that illustrate the full impact (or at least the latest estimate) of the 737 Max crisis.
The total cost of the grounding is now approaching a cool $20 billion, including nearly $9 billion in customer compensation. To put that into some sort of perspective, the latter figure is roughly the same as the annual gross domestic product of Chad.
With that as a backdrop it is impossible to overstate the importance to Boeing of a smooth and timely certification campaign for the 777X.
There has already been some delay to the widebody, although the blame for that has largely been laid at the door of engine supplier GE Aviation.
Sometimes a little slippage in development programmes is, if not acceptable, then at least understandable.
But on this occasion, Boeing has no more room for manoeuvre.