So far, so good. That was the verdict on the hugely ambitious Global Combat Air Programme (GCAP), as delivered by military and industry figures during mid-September's DSEI show in London.
With nine months under the wings of a trilateral effort involving Italy, Japan and the UK, all parties remain in tight formation on their journey towards delivering a sixth-generation fighter for service from 2035.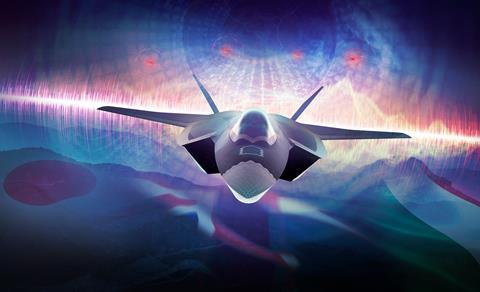 Phrases such as "genuinely shared interests", "spirit of equal partnership" and "robust funding path" were in rich supply, as officials from each of the nations shared a stage in public for the first time.
Evolved from the UK-only Tempest project launched in 2018, GCAP took off last December, as Rome, Tokyo and London sought to align their future operational and industrial requirements through a joint endeavour.
There was a distinctly honeymoon-period feel to the raft of announcements made at the show, strengthening agreements between the future fighter's airframe, avionics and weapons partners. But can the current spirit of harmony persist as harder discussions take place around the programme's organisational set-up, decision-making processes and industrial workshare?
Now under way, this process will without question pose the sternest test yet for the programme, which seeks to develop and field an advanced fighter in half the time of previous collaborative efforts.
It will not be without risks. As an example, Europe's other current future fighter activity – a partnership between France, Germany and Spain – suffered a one-year delay to the start of its current phase of work, due to wrangling between industrial giants Dassault Aviation and Airbus Defence & Space.
While an agreement was eventually reached over Dassault's lead role in developing a New Generation Fighter, one industry observer cautions that the European Future Combat Air System effort could still be "a divorce waiting to happen".
Those involved in the GCAP discussions must ensure that they do not cause a similar slip while defining their exact requirements and industrial expectations.
All parties seemingly accept that a strict one-third-each workshare allocation is not practical, but conversations will become difficult if any player feels that their contribution is undervalued. Which company with cutting-edge technology and know-how will end up producing the landing-gear doors, or would voluntarily miss out on final assembly work?
Make no mistake: the outcome of GCAP really matters to each of the three nations involved, but so far there have been no forecasts released suggesting the potential scale of their combined future buys. This means that also selling the type on the international market will be a key contributor towards driving down costs.
With Japan today unable to export defence equipment as a result of the nation's constitution, strong agreements around the ability of its partners to make future international sales of the jointly-developed fighter must be hammered out at this early stage.
The UK is currently unable to conclude a potential follow-on sale of Typhoons to Saudi Arabia due to political opposition from Eurofighter partner nation Germany, and such a situation cannot be allowed to happen again on a future collaborative product.
So while progress appears to be free of turbulence for now, only once key industrial and organisational decisions have been concluded within the next year will we know if the GCAP endeavour can succeed in keeping all of its partners happy and hitting its mid-2030s service introduction target.