Weather consistently generates around 30-33% of all air traffic management (ATM) delays across the European network, according to the Eurocontrol Network Manager, whose recent statistics indicate an 80% increase in minutes of weather delay since 2013. Not only that, but weather events are becoming more unpredictable in their timing and intensity. Thunderstorms have become more static, larger and higher, making them increasingly difficult to fly around, while turbulence and sudden strong winds around airports are making flying increasingly uncomfortable for passengers.
The result is that air traffic management professionals in some of the busiest airspace in the world are facing increasing difficulty in balancing demand and capacity in the face of intensifying weather systems due to climate change.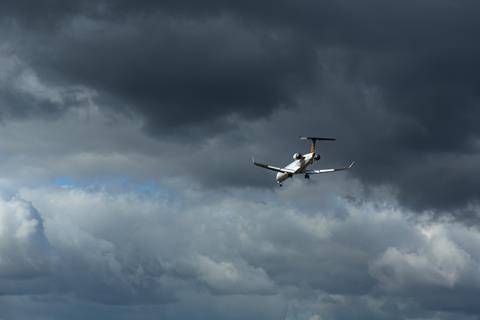 Dealing with bad weather is nothing new for air traffic control (ATC). All operational units, such as towers, approach control or en route control are well accustomed to handling such labour-intensive situations. What is becoming clear, however, is that with the increased number and severity of phenomena due to evident climate change effects – combined with ever more aircraft transiting an already congested continent – those charged with ensuring the safety of airspace are faced with a new, more problematic landscape.
On the positive side, climate change will likely mean less snow for western Europe, although meteorological experts still cannot guess just how the region's typical fog, wind and rain patterns may evolve to become the "new normal".
Convective activity is becoming the main problem during the summer months, however. Storms are building more quickly and joining up so that their cross-border impact is becoming more significant. Throughout June 2017, and especially in July of that year, it was not uncommon for the European network to be subject to around 100 regulations on any one day caused by severe weather.
Many of these regulations duplicated each other, meaning that flights could be subject to five or six different measures, making it almost impossible for them to be re-routed. Winter weather is also changing and although it does not significantly affect en route airspace, it still remains an issue for a large number of airports – with one weather front impacting simultaneously a whole chain of terminal manoeuvring areas – the controlled airspace surrounding a major airport where there will be a high volume of traffic.
Together with the FABEC airspace grouping ATC organisations in neighbouring countries, German air traffic controller DFS is working to optimise not only operations at the local level but also to have a critical effect on the stability of the European network as a whole.
FINE TUNING
One solution that has been developed by DFS at its Langen area control centre seeks to finesse weather forecasting for Frankfurt operations to help reduce the impact of extreme weather events as far as is safely possible.
With more direct routes than any other airport in the world, Frankfurt airport plays a critical role in connecting passengers travelling through Europe; it handles an average of 1,500 flights per day, more than any other international European airport. A total of 137 intercontinental destinations are served via the Frankfurt hub, underscoring its role as a leading node in the global air transportation system. Developing routine and seamless operational practices that optimise the use of airways, arrival and departure routes, as well as runways in the face of increasingly severe weather is therefore a priority.
The most significant impact of a thunderstorm is the fact that it will reduce the actual airspace – reducing the physical boundaries within which an aircraft can operate. During heavy thunderstorms, unplanned, ad hoc diversions into adjacent sectors will most likely lead to a concentration of traffic there, increasing congestion and therefore airspace complexity.
These unplanned scenarios have an immediate impact on controller workload and timely decisions have to be made with ATC supervisors most often having to err on the side of caution.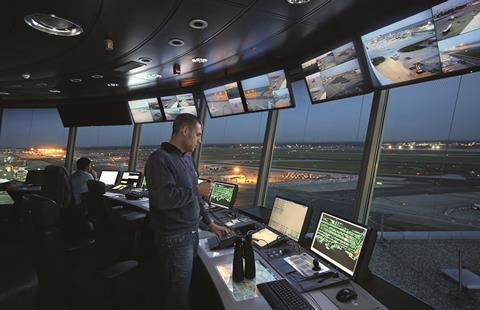 Also, as there are very few ways of understanding how a forecast thunderstorm will develop, air traffic controllers are forced into reactive mode, their actions guided by the weather. To prevent controller workload from becoming excessive, operations also have to be regulated to maintain safety and it is this which leads to vital capacity being lost and recovery times being unnecessarily long.
Workload complexity increases too for pilots, reflected in the proliferation of radio exchanges, which also puts available frequencies under pressure, especially at an airport with a complex parallel runway system such as Frankfurt. Add the fact that any electrical storm warning within 2.7nm (5km) of the major German airport will trigger a freeze on all ground handling operations, and the implications of worsening and persistent storms soon become clear.
BEST LAID PLANS
That decision is taken by the airport, although if there is a thunderstorm forecast, there will be much negotiation at management and operations level meaning all stakeholders will be prepared. For airlines, that means reducing flights in the pre-tactical stage. For ATC, that will similarly mean taking pre-tactical decisions on flow measures, with help from the German meteorological service, DWD.
An example from one day in 2018 illustrates the concept. A thunderstorm was forecast to impact Frankfurt airport operations from 13:30 UTC. At 10:00, the supervisor at Langen decided to regulate arrivals between 12:15 and 17:00 from a starting rate of 42 aircraft per hour; based on the forecast, that rate would drop to 20/h at 13:00, then increase to 35/h at 14:30, 45/h at 15:30 and 60/h at 16:30 before reverting to unregulated status at 19:00.
As predicted, the approaching storm front came in from the direction of Luxembourg at 11:00 and moved eastwards into Langen's western sectors. But the plan for a smooth "staggered regulation" soon fell foul of meteorological reality.
In this case, all the approaches into Frankfurt were regulated, regardless of whether or not they were directly affected by the bad weather – reflecting the difficulty of maintaining a precise view of dynamic weather. Keeping a real-time view of the weather is notoriously difficult in the Frankfurt area, where storm fronts develop and dissipate swiftly.
So DFS asked how the rules could be adapted so those specific approaches into Frankfurt that are not impacted by developing weather fronts would not be unnecessarily regulated? To consider alternative methods of air space management, a workshop was convened earlier this year by DFS to discuss this topic, together with DWD experts and members of Frankfurt's airline community.
Using the colour MET images familiar to controllers from briefings about forecast weather impacts, participants could see how DWD forecasts might allow for differential regulation of sectors around Frankfurt. Indeed, by dividing airspace sectors into smaller segments and generating a weather picture for those segments, DFS found it could better support decisions taken by its supervisors.
Of course, should ground services be ordered to discontinue, a "zero regulation" situation will always prevail. But with better forecasting, regulations can be applied to just one part of the airspace and approach flows managed more precisely.
Langen area control centre chief Armin Beirle explains that the development of a segmented weather forecast, rather than an area forecast required no new MET technology. Rather, it was only a case of using existing tools more efficiently: "It is not rocket science – simply a better human machine interface [that] leads to better understanding."
The airline community was involved from an early stage and also notes the benefits of a segmented approach to regulation. Raimund Muller, Lufthansa chief pilot and an A380 captain, says: "From an airline perspective the close co-operation and integration of weather experts into an airline operation centre has created value. It helps in steering our operation in terms of better decision-making, particularly on a short-term basis in tactical operation optimisation."
The advantage of this method is that only those flights that are actually impacted by the weather will be regulated. The rest remain without regulation and thus without delay. The trade-off can be that those flights that do pass through the quadrants with thunderstorms will likely suffer greater delays, and potentially more diversions.
Here, Beirle points out that giving airlines that visibility over ATC decision-making also has an overall positive impact on the environment as departing aircraft can delay starting their engines on the ground and then fly a more direct route to their destination. The method – which required no regulatory approval – has now been introduced at DFS's other busy hubs such as Cologne, Dusseldorf and Munich.